Out of Office: Travel and eat good food — for your health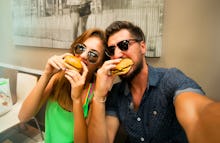 We're often advised to follow disciplined routines like eating healthy and hustling hard at work to enhance our well-being — but the health benefits of indulgences like eating good food and taking time off to travel are often overlooked.
We're here to validate your desire to eat carbs and take time off to chill at the beach. All of those things can actually be extremely beneficial to your mental and physical health.
So start living a little — for your well-being. Allow us to enlighten you on the major health benefits of certain indulgences.
While Italy is the land of pizza and pasta, it's also the healthiest country in the world, partly because of its food. Healthy fats, fresh produce and, yes, delicious pastas all help contribute to its low obesity rates.
There are so many good reasons to adopt healthy Italian eating habits as your own. Here's a few easy ways to get started.
The sea is miraculous. Just the sight of the seemingly boundless body of water is humbling for many. And in the 18th century, the ocean was often regarded as a panacea, with doctors prescribing drinking a pint of sea water to cure everything from leprosy to heatstroke to depression.
While modern medicine has yet to support ocean water as a cure-all, there are certainly some major benefits to spending time by the seaside — whether you're lucky enough to live there or are just visiting.
Check out these health benefits of spending time by the ocean — and then proceed to book your next beach vacation.
If the thought of booking a beach vacation triggers paranoia and guilt for taking off work, you're not alone. More than half of Americans didn't use all their vacation days in 2015, which added up to 658 million unused vacation days.
If you're feeling anxious about scheduling time off, know this: Vacation is part of your compensation and benefits package, and you're well within your rights as an employee to take the occasional break from your job.
We spoke with peers and experts about vacation guilt and how to break free from it.
If health benefits aren't enough to get you out of the office, this might help: People who take vacation get more raises, according to a new study.
So why are workers so bad at taking the time owed to them? Here's what's holding people back and how vacations might actually pay off in more ways than you'd expect — plus some secrets to asking your boss for time off.
Tiki bars first became popular in the 1960s when it provided an escape for Americans from the from the plummeting stock market and the stress of World War II-era life — and now that bars are restoring the bright and kitschy trend, it can serve as our generation's escape from social media and the exhausting news cycle.
Learn about the escapist history of the Tiki bar and why they're more important than ever — and then hit up your nearest spot (you know, for your health).
STAY UPDATED
Ready for your next adventure? Get our weekly guide covering where to go and what to eat delivered to your inbox.