Lorde isn't here for the media pitting her against other women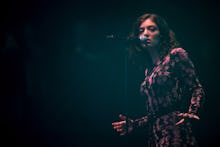 Lorde released her critically acclaimed sophomore album Melodrama on June 16, just a few weeks ago — which, for the media, apparently means there's no better time than now to distract from the singer's success with a good ol'-fashioned manufactured feud.
On Thursday, countless news outlets ran with a story stemming from Lorde's recent interview with Australian television station Sunrise. During the interview, host David Koch asked the 20-year-old how it felt to begin hanging out with her "idols" after first striking success in 2013, and whether she still considers herself part of Taylor Swift's infamous "squad."
"The second you think too hard about it, you'll go insane," Lorde said. "It's best to be like, 'We're in Wonderland and it's just what happens around here.' I don't hang out with these people at all."
This answer didn't seem to satisfy Koch, who added, "But hang on — you're part of Taylor's squad."
With a subtle eye roll, Lorde responded, "I mean... You make friends in different places, but I think for the most part, I'm not calling up my idols for advice, necessarily."
Within hours, headlines exploded on social media announcing that Lorde had extricated herself from Swift's friend group.
Lorde begrudgingly addressed the headlines Thursday afternoon, beginning a post on Twitter with "Oh wow — something of a frustrating thing to have to address online but here we go."
"Taylor is a dear friend," the singer wrote. "I love her very much. In the interview in question, I had just been talking about Bowie and Patti Smith — those were the 'idols' I was referring to."
After putting those rumors to bed, Lorde tackled the very idea of Swift's "squad," a word she said people have latched onto as a way to make the friend group sound more like "some exclusive club or secret society."
While Swift's penchant for walking around in large groups of A-list celebrities and models might at times make the term "squad" apt, it's certainly become a useful way for tabloids and other outlets to hint at stereotypes about women's cattiness. The media's insistence on the exclusivity of Swift's squad means even something as simple as skipping out on the singer's annual Fourth of July barbecue might be evidence of a "diss."
Not if Lorde has anything to say about it.
"Forgive me," she wrote, "for the mild eye roll I popped when it was brought up as if we're all blood members of a secret cult."