US officials have plans to test missile defense system amid tensions with North Korea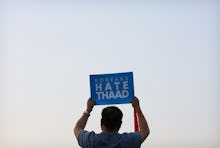 The United States has imminent plans in the works to test its missile defense system from a launch site in Alaska, according to an exclusive Reuters report.
Officials told the outlet the upcoming run will be the first time they've tested the Terminal High Altitude Area Defense system's ability to respond to a simulated intermediate-range ballistic missile.
News of the test arrives on the heels of North Korea's own missile tests earlier this week, which reportedly proved successful at covering enough ground to strike Alaska. Though some U.S. officials insisted North Korea's intercontinental ballistic missiles pose no credible threat to the country, government officials in Alaska have begun calling for an increased military presence as a precaution.
"Recent news of North Korea's efforts to build up nuclear weapons capabilities underscores why it's so important to increase America's military presence in Alaska," Gov. Bill Walker said in a Thursday statement provided to Mic.
"My team and I are committed to ensuring that efforts to expand armed forces in our state include a strategic Arctic port. Given our proximity to growing foreign powers, and this week's test, that need is now more urgent than ever."
Assembly of the missile defense system known as THAAD began in March, to the chagrin of many people living in China and South Korea. Residents in both countries have expressed concern in the past about how the system could affect them, being that it's based in South Korea.
Chinese officials told CNN they're particularly worried that a U.S. deployment of THAAD could leave the country ill-equipped to fight a battle against North Korea on their own soil. Secondary to this concern is a preoccupation that the U.S. could use THAAD's radar system to spy on the country rather than actually monitor North Korean missile activity.
Still, President Donald Trump continues to insist on a strong response to North Korea's aggressive posturing.
After North Korea's latest missile test, Trump tweeted out a call for Japan, South Korea and China to stand up to the country.
"North Korea has just launched another missile," Trump wrote on Monday. "Does this guy have anything better to do with his life? Hard to believe that South Korea and Japan will put up with this much longer. Perhaps China will put a heavy move on North Korea and end this nonsense once and for all!"
So far, China seems to have already let down the president.
"Trade between China and North Korea grew almost 40% in the first quarter," Trump tweeted on Wednesday. "So much for China working with us — but we had to give it a try!"