Authorities say an arsonist was behind a fire at a black LGBTQ community center in Dallas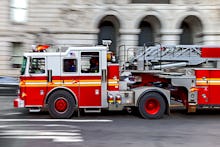 Authorities have determined that an arsonist intentionally set fire to a black LGBTQ community center in Dallas.
According to a local NBC affiliate, firefighters responded to an emergency call at Abounding Prosperity at 6 a.m. Friday morning and successfully doused flames within the hour. The blaze reportedly originated from the rear of the center, which houses the center's HIV/AIDS services.
Being that there was no one inside the building at the time of the fire, there are no reported injuries.
However, an Abounding Prosperity representative told the outlet that there's substantial damage to the agency's portion of the center, which means community members may not be able to access all of its resources for some time.
Authorities haven't explicitly called the act of arson a hate crime, nor have they identified any suspects.
"The AP, Inc. Community Center has been a beacon of hope to the South Dallas community and Dallas' Black LGBT community at large for over 13 years," read a post on Abounding Prosperity's Facebook page. "Please keep the AP, Inc. staff and the entire Dallas Black LGBT community in positive thoughts and prayers."