Ivanka Trump took her father's seat next to world leaders at G20 Summit when he stepped out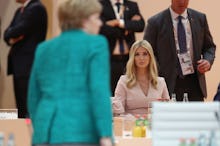 It's the ultimate game of world-leader musical chairs.
When Donald Trump had to leave his seat during a G20 Summit meeting entitled, "Partnership With Africa, Migration and Health," his daughter Ivanka Trump sat in his stead, nestled between British Prime Minister Theresa May and Chinese President Xi Jinping, the Washington Post reported.
A tweet from a Russian staff member showed Ivanka sitting between May and Jinping, with Russian President Vladimir Putin and German Chancellor Angela Merkel flanking the three, replacing her father who left for bilateral meetings.
Ivanka Trump, who serves as an adviser to her father, Donald Trump, has recently said that she tries "to stay out of politics." Her presence at the table was somewhat unusual, the Post noted, given that high-level government officials would usually replace the president and hobnob with world leaders.
A spokesman for Ivanka Trump told Bloomberg that she had been sitting in the back of the room and joined the table when the president stepped out.
Ivanka Trump and her husband, Trump adviser Jared Kushner, have been a part of other G20 meetings, as well. On Thursday night, they joined Trump in a meeting with Merkel, and Kushner attended Trump's meeting with Mexican President Enrique Peña Nieto on Friday.
President Donald Trump praised his daughter at a World Bank session that focused on women's entrepreneurship early Saturday as well.
"I'm very proud of my daughter, Ivanka — always have been, from day one — I had to tell you that, from day one," Trump said, according to the Post. "She's always been great. A champion. She's a champion."