Trump clashes with G20 leaders on climate change section of summit communique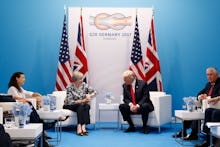 The United States clashed with other G20 leaders on climate change in the summit communique, it was reported Saturday.
The communique, which amounts to a jointly filed statement by all G20 leaders, acknowledges that President Donald Trump pulled the U.S. from the Paris climate agreement and emphasizes that the other 19 nations in the summit would remain committed to the historic accord.
"We take note of the decision of the United States of America to withdraw from the Paris Agreement," the communique reads. "The leaders of the other G20 members state that the Paris Agreement is irreversible."
Before the communique was agreed upon Saturday, leaders had found common ground all but one issue: climate change.
"We have a communique. There is one issue left, which is on climate, but I am hopeful we can find a compromise," an EU official, speaking on condition of anonymity, said, according to the Independent. "We have all the fundamentals."
The U.S. pushed to include a reference to fossil fuels in communique, with a passage stating that the "United States of America will endeavor to work closely with other partners to help their access to and use of fossil fuels more cleanly and efficiently."
According to the Independent, that "insistence" on the fossil fuel mention led to an impasse on the communique.
"We have a G20 communique, not a G19 communique," the EU official said.
German Chancellor Angela Merkel has made climate change a focus of the G20 summit in Hamburg. Trump — who has done an about-face on a number of Obama administration's environmental policies — has been at odds with other leaders of member nations, who have urged continued action on climate change with or without the U.S.
According to the Associated Press, Merkel said the U.S. position was "regrettable."