Baton Rouge police officer sues Black Lives Matter leadership for shooting injury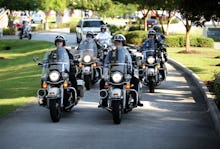 DeRay Mckesson and four other Black Lives Matter leaders face charges in a Louisiana U.S. District Court from a police officer who was shot when an ex-U.S. Marine sergeant opened fire on Baton Rouge police in July 2016.
Reuters reported that the officer, who is not named in the lawsuit, says he was shot by "a person violently protesting against police, and which violence was caused or contributed to by the leaders of and by 'BLACK LIVES MATTER.'"
Gavin Long, the black gunman who shot and killed three Baton Rouge officers and was himself later killed, identified as a member of the Sovereign Citizen movement, whose members believe the federal government is illegitimate. The group, according to Newsweek, is right-wing and mostly white, but Long claimed to belong to a black offshoot of it.
The Baton Rouge shooting claimed the lives of three of the city's police officers. The city had been hit by waves of protests after Baton Rouge police shot and killed 37-year-old Alton Sterling on July 6, 2016.
The Gavin Long shooting also came only a few days after the July 7, 2016 sniper shooting of police in downtown Dallas, which killed five officers.
On its website, the Black Lives Matter movement expressly states that it is not anti-police.
"Police officers are people. Their lives have inherent value. This movement is not an anti-people movement; therefore it is not an anti-police-officer movement," its site reads. "The Black Lives Matter movement is not trying to make the world more unsafe for police officers; it hopes to make police officers less of a threat to communities of color."
Mckesson was arrested in July 2016 while protesting police violence. In August, he filed a lawsuit against the city, accusing officers of violating his civil rights and using excessive force.