Man arrested for allegedly threatening to kill Republican Sen. Joni Ernst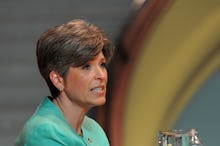 The FBI arrested a 64-year-old man on Friday who, they say, threatened Sen. Joni Ersnt (R-Iowa), according to a press release from the U.S. Attorney's Office in the Southern District of Iowa.
Robert William Simet, of Omaha, allegedly told employees at a Pacific Junction, Iowa, motorcycle shop — where Ernst was scheduled to speak Saturday — that he "could kill" the senator there and that "everyone in the government needs to be killed off," according to reports.
He also reportedly accused Ernst of being a member of the Islamic State, also known as ISIS.
Simet's arrest came days after 59-year-old Mark Prichard was arrested at a protest outside the office of Sen. Jeff Flake (R-Ariz.) for allegedly threatening to "solve the Republican problem" by getting "better aim" — a reference to the June shooting at a baseball field in Alexandria, Virginia.
In that incident, James T. Hodgkinson — a 66-year-old Illinois man who had repeatedly railed against the GOP — opened fire on Republicans practicing for the annual Congressional Baseball Game, severely wounding House Majority Whip Steve Scalise, who remains hospitalized.
Simet was arrested after the motorcycle shop employees told an FBI agent about his comments. He is currently in custody in Council Bluffs, Iowa.
"The safety of our elected officials is something that cannot be taken lightly," FBI Omaha Special Agent in Charge Randall Thysse said in a statement. "We appreciate those people who reported this to the proper authorities and for the response from our partners at the U.S. Attorney's Office for the Southern District of Iowa for their swift action on this matter."