Donald Trump insists he's going to London but hasn't set a date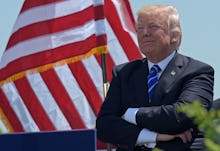 President Donald Trump tried to dispel weeks of uncertainty on whether he would visit the U.K. on Saturday, telling reporters at the G-20 Summit in Hamburg, Germany, that "I will be going to London," the Washington Post reported.
Trump, who was reportedly wary of going to the U.K. amid the prospect of mass protests over his presence on British soil, added the timing was still up in the air and he will "work that out."
The president additionally promised he would ink a "very powerful" bilateral trade deal with the U.K. "very very quickly" as a result of his discussions with British Prime Minister Theresa May.
"I think trade will be a very big factor between our two countries," he said.
Trump, however, went from deeply unpopular in the U.K. to a de-facto persona non grata after he insulted London Mayor Sadiq Khan's handling of a recent terror attack, which killed at least eight people and wounded dozens. Shortly after tweeting "We must stop being politically correct" and "if we don't get smart it will only get worse," Trump mocked Khan for calling for calm in the wake of the attack.
Khan subsequently demanded May retract her invitation for Trump to visit the U.K, while May's office recently denied reports Trump was planning on stopping by with less than 24 hours' notice to avoid protests.