Putin reportedly bonded with Trump by mocking the press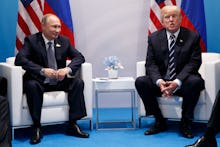 President Donald Trump and Russian President Vladimir Putin have at least one thing in common: Neither are fans of the news media.
In their much-anticipated meeting Friday, Putin took aim at the media in an effort to "break the ice" with Trump, the New York Times reported Saturday.
"These are the ones that insulted you?" Putin reportedly asked Trump, gesturing at press photographing the two leaders before their meeting.
"You are right about that," Trump reportedly replied.
The exchange was first reported by a member of the Russian press pool.
Russia is one of the worst nations in the world when it comes to freedom of the press, according to Reporters Without Borders.
Trump, who has praised Putin in the past, has repeatedly dismissed critical coverage as "fake news" and on Sunday tweeted a video of him body slamming the CNN logo. Critics said the tweet promoted violence against the network.
The two countries issued conflicting stories about what took place during the two-hour meeting between Trump and Putin.
Secretary of State Rex Tillerson claimed Trump brought up Russia's meddling in the 2016 U.S. presidential election, while Russian Foreign Minister Sergey Lavrov said Trump accepted Putin's denial that Russia did any meddling at all.
In a press conference Saturday, Putin echoed Lavrov and said he believes Trump accepted the denial — but that it'd be better to ask him.
Trump "asked a lot of questions on this subject, I was able to answer — answered all of these questions," Putin said. "I think he took this into consideration and agreed, but, in fact, how he reacted to this — ask him."