UN Ambassador Nikki Haley: Trump told Putin, "we know you did it, cut it out"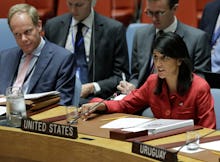 President Donald Trump's ambassador to the United Nations, former South Carolina Gov. Nikki Haley, is insisting the president had effectively addressed allegations of Russian involvement in the 2016 election.
In pre-released footage from a Sunday interview on CNN's State of the Union, Haley claimed Trump had used a recent meeting with Russian President Vladimir Putin to tell him to "cut it out," Politico reported.
Trump "wanted him to basically look him in the eye, let him know that yes, we know you meddled in our elections," Haley said. "Yes we know you did it, cut it out."
"And I think President Putin did exactly what we thought he would do, which is deny it. This is Russia trying to save face. And they can't. They can't."
Asked why, if Trump had finally been convinced of Russia's role in what intelligence agencies now say was a concerted effort to leak damaging material about Democrats before the November federal elections, the president has barely addressed the issue in public, Haley said:
"Everybody's trying to nitpick what he says and what he doesn't, but talk is one thing," Haley said. "Actions are another. He confronted President Putin. He made it the first thing that he talked about. And I think we have to now see where it goes from here."
What actually happened in the closed-door meeting with Trump remains unclear, as Putin emerged from the meeting stating though the issue was discussed and the president seemed to accept his denial. But the Trump administration has said not confirmed whether or not Putin's characterization of the meeting is true.
According to NBC, while Trump was in Warsaw, he floated the idea other parties could be responsible.
"I think it could very well have been Russia, but I think well could have been other countries," Trump said. "And I won't be specific, but I think a lot of people interfere."
On Twitter, Trump has repeatedly referred to alleged Russian involvement as part of a smear campaign by Democrats intended to explain away Hillary Clinton's loss in the 2016 elections. He has also struck a friendly tone towards Putin and Russia. Since Trump has repeatedly contradicted his own staff on a number of issues, it's not clear Haley's reassurances reflect the official White House line.
On Friday, the top Democrat on the House Intelligence Committee, Adam Schiff, warned the public to be skeptical about the White House's version of events concerning the meeting.