95-year-old Carl Reiner begs 80-year-old Supreme Court Justice Anthony Kennedy not to retire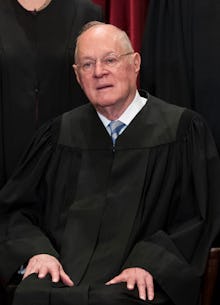 Carl Reiner — the 95-year-old actor and director — is pleading with Supreme Court Justice Anthony Kennedy to remain on the bench in an open letter to be published in the New York Times on Sunday.
"I know what it means to be your age," the legendary filmmaker and comedian writes. "I know the problems that come with the journey. But these are not ordinary times, and you, sir, are anything but an ordinary man."
Rumors that the 80-year-old judge is considering retiring from the bench have intensified in recent weeks. Some wondered if he would retire at the end of the most recent Supreme Court term, but the term ended without any such announcement. Still, he has reportedly not hired clerks for the term beginning in October 2018 and has apparently informed applicants he is planning on retiring.
That doesn't sit well with the Ocean's Eleven actor, who became a household name as a co-creator, actor and writer of the Dick Van Dyke Show. According to Reiner, Kennedy may be about to enter the "best part of your career."
"The country needs justices like you who decide each case with fairness and humanity, and whose allegiance is to the Constitution of the United States of America, not to a party line," Reiner writes. "You have always voted your conscience, and defended the rights and liberties of all our citizens."
Carl Reiner and his son — the director Rob Reiner — have each been vocal critics of the Trump administration.
In his op-ed for the Sunday Times, Reiner calls on Kennedy to stay because he has "important and fulfilling work ahead" of him.
"How would you feel, while reading your newspaper, seeing a headline that read "Roe v. Wade Overturned"?" Reiner writes. "Do you see how this could ruin a good meal? A good life? A great country?"