Kremlin-connected lawyer met with Trump campaign in 2016, 'New York Times' reports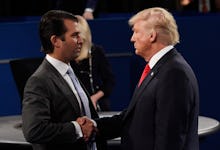 Members of President Donald Trump's campaign team met with a Kremlin-connected lawyer at Trump Tower weeks after he clinched the GOP nomination, the New York Times reported Saturday.
According to the Times, the June 9, 2016 meeting would the first confirmed private meeting between a Russian national and Trump's team during the campaign.
Donald Trump Jr., the president's son, set up the meeting with lawyer Natalia Veselnitskaya., which was attended by then-Trump campaign chairman Paul Manafort and Jared Kushner, the president's son-in-law and senior adviser, the Times reported.
Representatives for Trump Jr. and Kushner reportedly confirmed the previously undisclosed meeting when confronted by the Times.
"It was a short introductory meeting. I asked Jared and Paul to stop by," Trump Jr. said in a statement to the Times. "We primarily discussed a program about the adoption of Russian children that was active and popular with American families years ago and was since ended by the Russian government, but it was not a campaign issue at the time and there was no follow up."
According to the Times, this marks the first time Trump Jr. "is known to have been involved in such a meeting."
Veselnitskaya, whose clients reportedly include businesses owned by the Russian state, waged a prominent fight against the 2012 Magnitsky Act, the U.S. law that keeps visas from Russian officials believed to have committed human rights abuses and freezes their financial assets.
Investigators have been probing potential collusion between the Trump campaign and Russia, which meddled in the 2016 U.S. presidential election.
Trump has repeatedly questioned Russia's role in the election interference, and has called investigations into his campaign "the single greatest witch hunt in American political history."
The FBI's investigation has, in recent months, is said to have expanded to include Manafort and Kushner.
Trump, who has praised Russian President Vladimir Putin in the past, brought up Russia's meddling in the 2016 election in Friday's face-to-face meeting between the two at the G20 summit, according to Secretary of State Rex Tillerson.
But the Russian account of the meeting differed — Russian Foreign Minister Sergey Lavrov countered Tillerson's narrative, saying that Trump accepted Putin's denial of any interference.