8 arrested in Greece death of American graduate Bakari Henderson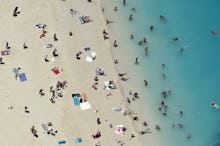 At least eight people have now been arrested in conjunction with the death of U.S. college graduate Bakari Henderson of Austin, Texas, who was beaten to death early Friday morning on the Greek island of Zakynthos.
According to ABC News, six Serbian tourists were arrested after being identified as part of the brawl through surveillance footage, along with two men who had been previously arrested on Friday. The eight appeared in court Saturday night and all pled not guilty.
The investigation into Henderson's death is still ongoing. The 22-year-old University of Arizona graduate was reportedly killed during a fight with 10 other people outside a bar in the Laganas area of Zakynthos. The area, according to the Associated Press, is known for being home to rowdy behavior by young foreign tourists.
An autopsy is currently being conducted and results are expected early this week, ABC News reported.
Henderson's friends and family continue to mourn the young victim in the wake of his tragic death.
"Such a fun loving person and he's so easy going," friend Sam Hindsman told ABC News about Henderson. "So many people just loved him, so it was hard to believe."
Others questioned how Henderson became involved in the fatal brawl in the first place, describing the graduate, who was in Greece working to launch a clothing line, as a "peacemaker."
"Bakari was not one to act aggressively like that," friend Travis Jenkins told ABC News. "He was always the one who was the peacemaker."
A GoFundMe page in honor of Henderson, which will pay to bring Bakari's body back to the U.S. and for funeral expenses, has currently over $22,000.
"He was just starting his life, so many dreams and aspirations not yet achieved. He was a blessing and brought a light of joy to everyone who encountered him," the GoFundMe page reads.
In a statement quoted by ABC affiliate KVUE, Henderson's family thanked people for their outpouring of "prayers, love and support."
"Bakari loved spending time with family and friends, traveling, and meeting new people. He was a big thinker and enjoyed coming up with new business ventures," the statement reads. "Bakari was an inspiration to all he met. He loved life and lived it to the fullest."