John McCain: Putin of "enormous assistance" to Trump's cybersecurity unit, since he's the hacker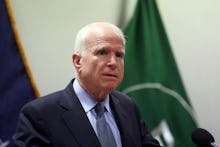 Sen. John McCain laughed off President Donald Trump's pledge to work with Russian President Vladimir Putin on forming an "impenetrable Cyber Security unit" to resolve "election hacking, & many other negative things," publicly mocking the idea during an appearance on CBS' Face the Nation.
"I'm sure that Vladimir Putin could be of enormous assistance in that effort since he is doing the hacking," McCain cracked, referring to allegations Putin personally directed a Russian intelligence operation to leak embarrassing info about Democrats during the 2016 elections.
"I mean it's, look, I support this president," McCain added. "I did not support him, OK? But he is the president."
Earlier in the interview, McCain noted, "As far as a specific penalty for what they did, there has been no penalty. So if you were Vladimir Putin, who I've gotten to know over the years, you're sitting there and you got away with literally trying to change the outcome not just of our election. ... It's time to move forward. But there has to be a price to pay."
McCain was far from the only fellow Republican to throw shade at Trump's promise to work on cybersecurity with one of the nation's biggest cybersecurity threats.
"Partnering with Putin on a 'Cyber Security Unit' is akin to partnering with [Syrian leader Bashar al-Assad] on a 'Chemical Weapons Unit,'" Sen. Marco Rubio tweeted. On NBC News' Meet the Press, Sen. Lindsey Graham said it was close to being the "dumbest idea I've ever heard."