The Islamic State has lost Mosul to Iraqi security forces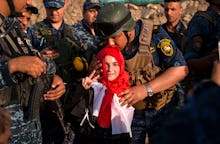 Iraqi Prime Minister Haider al-Abadi traveled to Mosul on Sunday to declare victory in the nation's fight with Islamic State militants there, the New York Times reported, though years of vicious fighting and the recent nine-month campaign to retake the city have left it in ruins.
"The world did not imagine that Iraqis could eliminate Daesh," al-Abadi said, according to the Washington Post. "This is all a result of the sacrifices of the heroic fighters who impressed the world with their courage."
Mosul was the largest city overrun by the Islamic State and one of its most important territorial capitals. With its loss, the group has lost much of its Iraqi territory, though the Syrian city of Raqqa remains its de facto capital and it still controls much of the Iraqi-Syrian border.
Though the city appeared to be in government hands as of Sunday, fighting continued in some neighborhoods, with Islamic State fighters either continuing to put up active resistance or dispersing into the civilian population. According to the Times' Rukmini Callimachi, who was onsite when the liberation was declared, she saw a "city that has been decimated."
Callimachi reported she could hear continuing fighting throughout the city. "[Soldiers] believe Iraqi members of ISIS are slipping out by shaving beards & mingling with escaping civilians," she tweeted. "Foreign fighters have no out. ... Soldiers told us that in the last days of this fight, when they killed ISIS fighters they often found bodies that didn't look Arab."
Fighting has been ongoing in the campaign to retake the city since October 2016; according to the Post, U.S. military officials hoped the offensive could take as little as two months. It ultimately took nine, with immense loss of life.
In addition to remaining militants, Islamic State has surely booby-trapped much of the city with improvised explosive devices, as well as left behind sleeper cells to carry out future attacks on the occupying forces. "It's going to continue to be hard every day," Col. Pat Work, commanding officer of the Second Brigade of the 82nd Airborne Division, told the Times.
Islamic State is not the only faction, however, accused of atrocities in the fight for Mosul.
Earlier in 2017, the Iraqi government launched an investigation into accusations that security forces — particularly elite Iraqi Interior Ministry troops — had committed "torture, rape and extrajudicial killings," the Post reported.