Report: Donald Trump Jr. met with Russian who promised "damaging" info on Hillary Clinton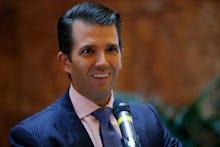 Donald Trump Jr., the eldest son of the president, met with a Russian lawyer with connections to the Kremlin in June 2016 only after being promised "damaging information about Hillary Clinton," the New York Times reported Sunday.
Three White House advisers who were briefed on the meeting, as well as two others with knowledge of it, confirmed those details to the Times. Also present at the meeting were Jared Kushner, the president's powerful aide and son-in-law, and then-campaign manager Paul Manafort.
What's more, those involved are not denying the meeting took place, though they dispute the specific circumstances.
The confirmation of such a meeting is just the latest in a series of connections between President Donald Trump's campaign and White House staff and people linked to the Russian government, which intelligence agencies believe hacked into Democratic email systems during the campaign to leak information damaging to Clinton's campaign.
Natalia Veselnitskaya, the lawyer who allegedly promised damaging info about Clinton, had clients including "state-owned businesses and a senior government official's son, whose company was under investigation in the United States at the time of the meeting," the Times noted. She denied any affiliation with the government.
Donald Trump Jr. released a statement to several news outlets confirming the meeting, which was first reported on by the Times on Saturday, took place. Kushner, who is now a government official, previously reported no contacts with foreign officials during his security clearance application process but has since resubmitted the information to correct the omission, his lawyer Jamie Gorelick said in a statement.
In Trump Jr.'s statement, the president's son said he had essentially been tricked into a meeting with another purpose — to discuss the Magnitsky Act, a U.S. sanction on some Russian officials. But he did not deny that the purpose of the meeting was to share information "helpful to [his father's] campaign."
"I was asked to have a meeting by an acquaintance I knew from the 2014 Miss Universe Pageant. ... I was not told her name prior to the meeting," he wrote. "After pleasantries were exchanged, the woman stated that she had information that individuals connected to Russia were funding the Democratic National Committee and supporting Ms. Clinton. Her statements were vague, ambiguous and made no sense. ... It quickly became clear that she had no meaningful information. She then changed subjects and began discussing the adoption of Russian children and mentioned the Magnitsky Act."
"That was the end of it and there was no further contact or follow-up of any kind," Trump Jr. concluded. "My father knew nothing of the meeting or these events."
July 9, 2017, 6:07 p.m.: This story has been updated.