'Hot Mic' podcast: Paul Ryan cancels town hall, GOP health care struggles, Trump meets with Putin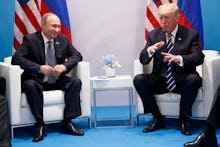 Listen and subscribe to the Hot Mic podcast from your mobile device:
Here are the important stories to know for Monday, July 10:
1. Paul Ryan won't hold public town halls anymore because of protesters.
2. Opposition to the Senate Republican health care bill continues to grow.
3. Trump and Putin talked about creating a cybersecurity unit in their meeting at the G20 summit.
Direct from Mic's newsroom, Hot Mic keeps listeners informed with a daily run-down of top stories, breaking news and analysis from our news team.