McCain: Republican health care bill "probably going to be dead"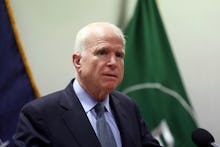 During a Sunday morning appearance on CBS News' Face the Nation, Arizona Sen. John McCain added his voice to a growing list of legislators who have expressed doubts about the Republican health care bill's chances of clearing a Senate vote.
"My view is that it's probably going to be dead," McCain said of the controversial bill aimed at rolling back Obamacare. "But I've been wrong. I thought I'd be president of the United States. But I fear that it's going to fail." 
In June, Senate Republicans huddled in closed-door meetings to draft the health care bill, with Senate Majority Leader Mitch McConnell initially hoping to rush the bill out for a vote before Congress departed for a July 4 recess. But the recess came and went, and some Republicans returning to Congress on July 10 had enough time to publicly distance themselves from the bill in their home states during the interim.
On Sunday, McCain criticized the Republicans' method of drafting the bill, suggesting that they should "go back to the beginning" and let Democrats have a say on what gets included in the final legislation.
"Introduce a bill," McCain told Face the Nation host John Dickerson. "Bring it to the floor. Vote on it. That's the normal process, and if you shut out the adversary or the opposite party, you're going to end up the same way Obamacare did when they rammed it through with 60 votes. Only guess what? We don't have 60 votes."
The unpopular bill would would gut Medicaid, resulting in an estimated 22 million more uninsured people over the next decade.
On Sunday, President Donald Trump took to Twitter to offer Senate Republicans words of encouragement ahead of the imminent health care vote.
"For years, even as a 'civilian,' I listened as Republicans pushed the repeal and replace of Obamacare. Now they finally have their chance!" he wrote.