Kendall and Kylie Jenner reportedly sold only 2 of their Tupac T-shirts before pulling them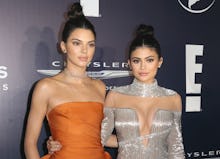 Unlike many of their other scandals involving cultural appropriation and ripping off indie artists and designers, this is one scandal that is refusing to disappear for the Kardashian-Jenner family — and for good reason.
In response to a copyright infringement lawsuit filed against Kendall Jenner and Kylie Jenner in connection with their highly problematic rap T-shirts, which showed their faces superimposed over the faces of Tupac and Biggie, the sisters are publicly announcing that very few people ended up buying these rap T-shirts after all.
According to a new report from the Associated Press, the Kendall + Kylie brand released a statement announcing that it only sold two of those "vintage" Tupac T-shirts before they were pulled from the website.
The label said that the images of Tupac Shakur were obtained legally. It also said that the lawsuit, which was filed by Michael Miller, who holds the copyright to two of the Tupac photos the sisters used, is "baseless."
"The allegations made are completely false and the lawsuit is baseless," the statement read, according to the AP. "There has been no infringement or violation of anyone's rights."
This news comes days after a flurry of bad press surrounding the sisters and those particular T-shirts. When they were first launched, the shirts had people calling out the sisters for racism and attempting to erase black culture. Then Biggie's own mother weighed in, writing on Instagram: "The disrespect of these girls to not even reach out to me or anyone connected to the estate baffles me.  I have no idea why they feel they can exploit the deaths of [Tupac] and my son Christopher to sell a T-shirt."
That then led to a formal apology from the Jenner sisters, who wrote in a statement: "These designs were not well thought out and we deeply apologize to anyone that has been upset and/or offended, especially to the families of the artists. We are huge fans of their music and it was not our intention to disrespect these cultural icons in any way."
Amid all this, other celebrities weighed in too. Sharon Osbourne, whose ex-husband Ozzy Osbourne was featured on one of the Jenners' "vintage" rock T-shirts, spoke out.
"Girls, you haven't earned the right to put your face with musical icons," she wrote on Twitter. "Stick to what you know… lip gloss."
Then the band Arcade Fire decided to poke fun at this whole ordeal, releasing merchandise for their tour featuring Kendall Jenner's face over their own logo.
So it looks like it's the music industry and artists versus the Jenner sisters. We'll be keeping you all updated on this one.