Trump tried to drag Chelsea Clinton into the Ivanka G20 drama. Chelsea wasn't having it.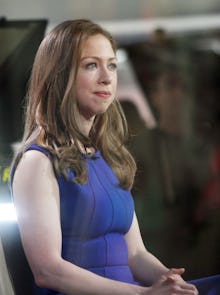 After fielding criticism for allowing first daughter Ivanka Trump to sit in for him during a meeting at the G20 Summit in Germany, President Donald Trump defended his actions by saying the media would have cheered had former first daughter Chelsea Clinton sat in for Hillary Clinton at the same event.
"If Chelsea Clinton were asked to hold the seat for her mother, as her mother gave our country away, the fake news would say CHELSEA FOR PRES!" Trump tweeted Monday morning.
Chelsea Clinton, however, wasn't having it.
"Good morning Mr. President. It would never have occurred to my mother or my father to ask me," she tweeted in response. "Were you giving our country away? Hoping not."
Critics of Ivanka Trump's role at the G20 say having a family member sit in at a world leader's summit is something a leader of an authoritarian nation would do.
"Even the Saudi Royal Family would not try a stunt like this," Richard W. Painter, chief White House ethics lawyer for President George W. Bush, tweeted.
Trump, however, said Monday that Ivanka was merely holding his seat, and that it is "very standard" practice.