Former USA Gymnastics doctor accused of sex abuse to plead guilty on child porn charges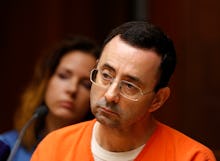 Larry Nassar, the former USA Gymnastics doctor accused of molesting over 100 girls and women, will plead guilty to federal child pornography charges. The three charges include the "receipt and possession of child porn and destruction and concealment of records," according to the Detroit News, which obtained a copy of the deal.
In return, the U.S. Attorney's Office for the Western District of Michigan will not pursue allegations that Nassar sexually assaulted underage girls in a swimming pool and filmed it on a GoPro camera, nor will it further investigate Nassar for allegedly molesting two minors while traveling between 2006 and 2012. Nassar served as USA Gymnastics' team physician from 1996 to 2015, treating athletes in four Olympic games before being let go over "athlete concerns." Since 1997, he also worked as a sports medicine doctor at Michigan State University until being fired in September. The allegations against him stretch back to 1998, according to NBC News.
"They've [the U.S. Attorney's Office] told our clients that they are not prosecuting their cases," California-based attorney John Manly, whose firm represents over 90 of the women accusing Nassar, confirmed to ESPN. After the Detroit News initially reported the plea deal on Friday, he said, "My phone began to ring off the hook with questions from clients that I couldn't answer, like: 'How could they do this to us?'"
"These girls gave up their childhood to compete for their country, and they deserve better than this," Manly added. "This is cowardly."
Authorities arrested Nassar in December, alleging that he knowingly downloaded or tried to download pornographic images of children in 2004 and that he had amassed and kept thousands of such images between 2003 and 2016. His library reportedly included photos of a minor under the age of 12.
As the Detroit News reported, Nassar allegedly paid to have professionals wipe his computer in September, aware that investigators were building a case against him. He made the mistake of putting the scrubbed hard drives with the trash on the curb outside his house, where law enforcement found them.
"The defendant then turned the wiped laptop over to his employer," the plea document reads, according to the Detroit News. "Forensic analysis of the machine revealed that the defendant had completely wiped it of all content."
Receiving child pornography carries a prison sentence of five to 20 years, while possessing it comes with a maximum 20-year sentence. According to ESPN, Nassar will head to a federal Grand Rapids, Michigan, court on Tuesday, where he will formally accept the plea deal. Neither Nassar's attorney nor a spokesperson for the U.S. Attorney's Office had responded to requests for comment at time of publication.
While Nassar will not have to answer on some of the sexual abuse charges against him, he still faces three criminal trials in Michigan state court, which could lead to life imprisonment if he's convicted, according to ESPN. Nearly 120 of Nassar's former patients have so far come forward with very similar stories, saying he penetrated their vaginas and, sometimes, anuses with his fingers under the guise of routine osteopathic treatment for back and hip injuries. He allegedly told one 15-year-old not to tell her parents because "they wouldn't understand."
"Dr. Nassar molested young women at the Olympics," Manly told ESPN, criticizing the plea deal. "He molested young women at national competitions. And our country is not going to charge him? The message that sends these women is: 'You don't matter.'"