Senate Republicans' health care bill "dead" — say Senate Republicans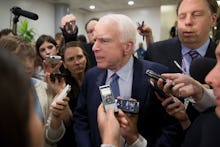 This is Mic's daily read on Donald Trump's America. Welcome to the political newsletter that can't believe we're actually talking about compromise.
Want to receive this as a daily email in your inbox? Subscribe here.
What we're watching:
Today: Compromise and single-payer, the emerging narratives around health care.
More: The Russia story was front and center this weekend.
Yes, more: Iraqi forces have nearly retaken Mosul from the Islamic State.
Trump's agenda today: No public events.
Here's where the health care debate seems to be heading on both sides
After a week off, the message is no different: The Senate plan to repeal and replace the Affordable Care Act is, to quote two prominent Republican senators, "dead." Republican senators like Shelley Moore Capito of West Virginia are not shying away from responsibility for potentially killing the Senate health care proposal. Sen. Bill Cassidy (R-La.), a Republican pushing a moderate plan that conservatives like Ted Cruz (R-Texas) will reject, expressed little optimism on Sunday that there is a path forward.
With Republicans waiting to consider a new health care bill, here are two ideas that have gained traction in the past week:
Compromise: Sen. John McCain (R-Ariz.) said Sunday the GOP might have to work with Democrats to pass a health care bill. For weeks, senators like Ron Johnson (R-Wis.) and Susan Collins (R-Maine) have called for a bipartisan approach. Even Senate Majority Leader Mitch McConnell (R-Ky.) suggested last week a possible need to work with Democrats. On the Democratic side, senators have long expressed a willingness to work with the GOP. If the current Republican effort fails, there could be an opening for bipartisanship.
Single-payer: This is a nonstarter for Republicans. But that won't keep Sen. Bernie Sanders (I-Vt.) and a growing stable of Democrats from pushing the plan. As polls have shown the GOP bill is among the least popular in decades, liberals have found an opening to promote an idea that died in the 2009 health care debate: government-provided health care. More Americans than at any point in the last decade believe the federal government must ensure coverage for everyone. Groups protesting Trumpcare used sit-ins last week to highlight their support of single-payer.
The opposition is unrelenting: Axios reported Save My Care is pressuring four Republican senators to vote against the Senate bill with home-state ads. They're targeting Sen. Dean Heller (R-Nev.), Collins, Capito and Sen. Lisa Murkowski (R-Ala.).
Deadline: Congress wants to pass health care by July 28.
Today's question: Should President Donald Trump's son appear before Congress to explain his meeting with a Krelmin-tied lawyer? Email your thoughts to trumpsamerica@mic.com.
We're seeking your support to expand our coverage of Donald Trump. As little as a $1 a month will give you access to an exclusive group to interact with Mic journalists and grow our reporting. Learn more here.
The latest on Russia
If you haven't read it yet, the New York Times story about Donald Trump Jr. is a bombshell for three reasons.
It demonstrates the president's son was willing to meet, during the election, with Russians to seek dirt on Hillary Clinton. The meeting included Trump son-in-law Jared Kushner and campaign chairman Paul Manafort.
Stay tuned: The motivation for the meeting matters, but it's still nowhere near enough to peg collusion on Trump.
Be careful what you say: White House adviser Kellyanne Conway was shown a clip of herself Monday saying in December that no one from the Trump campaign ever met with Russians.
Trump is not keeping quiet. After facing mockery for suggesting he would create a "cybersecurity unit" with Russian President Vladimir Putin, Trump dialed back that plan on Sunday.
Then, with the news of his son's meeting leading the news Monday morning, Trump pushed a report Monday morning that former FBI Director James Comey leaked classified information. (Read the Hill report Trump is citing.)
Don't miss this: Republicans, particularly senators, were critical of Trump after his calls to work with Putin. That's bad timing, not only for health care, but also because the White House wants to neuter a stern Russia sanctions bill passed 97-2 in the Senate. If the House passed that bill as-is, Trump's first veto could be to protect Russia.
News and insight you cannot miss:
One day into a Syrian cease-fire brokered by Trump and Putin, fighting has largely subsided.
The prime minister of Iraq is expected to declare victory over ISIS in Mosul, the country's second-largest city that was the Islamic State's capital since 2014.
Trump's attorney is trying to dismiss the defamation lawsuit by a woman who accused Trump of sexual assault.