Just 100 companies are responsible for 71% of greenhouse gas emissions worldwide, study says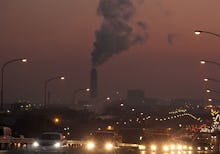 A mere 100 companies worldwide are responsible for more than 70% of all greenhouse gas emissions starting in 1988, according to a new report.
The report, released in July by U.K.-based nonprofit the Carbon Disclosure Project in partnership with the Climate Accountability Institute, tallies global emissions not by countries, but by corporations.
It found that the 100 top emissions producers account for 71% of all global greenhouse gas emissions since 1988, when climate change was officially recognized as being tied to human activity. According to the report, 51% of all industrial emissions worldwide are tied to just 25 corporate investor-owned and state-owned companies.
Why categorize emissions by corporations, rather than by nations? One of the researchers' goals in publishing the report is to raise awareness among investors and to pressure those companies for more transparency about emissions, they said.
In the 28 years since researchers discovered the link between climate change and human activity, the fossil fuel industry has only doubled down on emissions, according to the report. Some of the worst offenders since 1988 include ExxonMobil, Shell, BP and Chevron.
Pedro Faria, CDP's technical director, said climate change is "underway" and "irreversible," adding that it's essential that stakeholders, local governments and ordinary citizens act to reduce emissions.
"Climate action is no longer confined to the direction given by policy makers; it is now a social movement, commanded by both economic and ethical imperatives and supported by growing amounts of data," Faria said. "Those that ignore this reality do so at their own peril."
BP and Shell did not immediately return Mic's request for comment. In an emailed statement, a spokesperson for Chevron directed Mic to a climate change page on its website.
The consequences for ignoring that reality are grim. According to the report, if the next 28 years are the same as the previous 28, we would see a global average temperature rise of 4 degrees Celsius over pre-industrial levels before the year 2100.
That rise would lead to "substantial species extinction," global food scarcity and other as-yet-unknown consequences that are "even more severe."
July 10, 2017, 2:22 p.m.: This story has been updated