'Pokémon Go' Pikachu Hat: How to catch the anniversary event Pikachu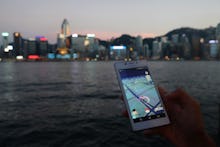 Niantic celebrated Pokémon Go's first birthday with an anniversary event that started last week. During the event, players can buy a special box full of helpful items and catch a special Pikachu as well. If you're having issues finding this special Pikachu — who wears Ash Ketchum's hat — we've got you covered.
Read on below for some helpful tips to catch this elusive Pikachu and be the very best — at finding a specific Pokémon.
Pokémon Go Anniversary Event: players have success finding special Pikachus using lures and nest locations
On the Silph Road subreddit, players have a few strategies to find the special Pikachu. The easiest — but most unreliable — method is to catch one with a lure. A user named Ausjam posted a picture to the subreddit to prove this, and another user confirmed.
Using lures should probably be a last ditch effort, however. Although lures will spawn more wild Pokémon, you don't have any control over what kinds of Pokémon spawn. This leads to a lot of common Pokémon finding their way to you, as one user found out the hard way.
If you're not inclined to spend coins on lures, don't worry. You've got another option. In that same Silph Road thread, another user confirmed that special Pikachus spawn at regular nests as well.
"It's just Pikachu as usual, but with a different sprite during the event," wrote sl522. "So natural wild spawns, nest spawns, lures, incense, [they're] all same as before." If you're lucky enough to have a Pikachu nest nearby, this is your best bet. Remember that you can also check your local nests using the Silph Road's own spawn tracker. There might be a nest right down the road.
The anniversary event goes until July 24 at 1 p.m. Pacific. That should be more than enough time to get your fill of special Pikachus that proceed to take up space in your Pokémon tab.
More Pokémon Go news, updates, tips and tricks
Raids are here! See why they may be the key to legendary Pokémon. Find out how to determine how long it will take you to reach level 40, and see what we think of the Gen 2 Pokémon added to the game. Here are the kinds of Pokémon you get from 10-kilometer eggs, and here's where you can check out what you missed during the Water Festival and Solstice events. Find out more about the upcoming Chicago event and why you'll probably be able to catch Unown while you're there — if you're not busy searching for rare evolutionary items, that is.