18 outrageous ice cream flavors — from prosciutto to kale — that are totally unique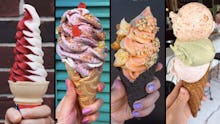 This week, Out of Office is celebrating all things ice cream. Follow along as we explore the sweet history and unexpected influences of America's favorite dessert.
For culinary masterminds, ice cream is a blank canvas for edible works of art. Sometimes, these come in the form of zany and mind-bending flavors. We scoured Instagram to find the most adventurous-sounding cones. From creative takes on classics like Blackberry Kale to unconventional combinations like ube and queso, these flavors are far more innovative than anything in the grocery freezer section.
Earl Grey Sriracha, Little Baby's in Philadelphia
Created by former musicians in Philadelphia, this ice cream company has a menu of flavors like Butterscotch Scotch and Balsamic Banana. Right now it's serving an Earl Grey Sriracha, an unexpected but heavenly sounding blend of potent black tea and spicy heat.
Thai Tea and Fig Brioche, Drips and Swirls, Los Angeles
In L.A.'s Koreatown, you'll find interesting soft serve flavors at Drips and Swirls. The creamery rotates flavors weekly, so don't dawdle: past flavors include Thai Tea and Fig Brioche (above), Pina Colada, Haute Cheetoh and Charcoal Crispy Rice.
Blackberry Kale, Sweet Cream Company in Columbia, South Carolina
Bitter kale gets mellowed by the sweetness of blackberries in this pretend-it's-healthy concoction. If you want to keep vegetables out of your ice cream, Sweet Cream Co. also serves Caramel Cashew, Cherry Coke and Apple Pie.
Humphry Slocombe is synonymous with weird — the San Francisco shop serves unexpected flavors like Prosciutto, Cream Cheese Chocolate Chip, White Miso, Peanut Butter Curry and Strawberry Candied Jalapeño. Go ham for Prosciutto (above), a combination of pork and dairy.
Think sour cream is just for globbing onto baked potatoes? Think again. The beloved dairy product is a creamy, tart accompaniment to sweet rhubarb at Molly Moon's — with an added a swirl of oat crumble for texture.
Avocado and Sea Salt, Coolhaus in Culver City, California
Who needs avocado toast when you can have avocado ice cream? The sea salt serves to bring out the flavor in this savory, creamy concoction. Over the avocado trend? From Buttered French Toast to Horchata to Potato Latke and Applesauce, Coolhaus flavors are as odd as they are enticing.
Charcoal, Morgenstern's in New York City
This jet black ice cream debuted in 2016 but still deserves an honorable mention because of its inventiveness — and because Morgenstern's helped spark a charcoal food trend that's still going strong. It's made with coconut ash and allegedly stains your teeth. Consider yourself warned.
Raspberry Beet and Ginger Twist, Toscanini's in Cambridge, Massachusetts
Turn up for beet ice cream, served at Toscanini's, an ice cream parlor with a few locations in the Boston area. If vegetable-based soft serve doesn't sound appetizing to you, you could stick to basics like Thin Mint, Espresso Chip or Salty Caramel.
Green Apple Caramelized Onion Cheesecake, Ivanna Cone in Lincoln, Nebraska
This flavor is a mouthful to say, and it's certainly an intimidating combo of flavors. You can rest easy: This is simply apple pie a la mode with some caramelized onions to add a hint of savory flavor. Ivanna Cone is a top ice cream shop in Nebraska and they won't do you wrong.
Salted Licorice, Big Dipper in Missoula, Montana
Love it or hate it, black licorice is a strong flavor that hits sweet, salty and sour notes. This aggressive flavor is not for the faint of heart. Find it at Big Dipper, a beloved scoop shop in Montana that serves its ice creams with homemade waffle cones.
Dreams come true at June's, a lively restaurant in Austin that serves sensational ice cream flavors like Babka. You'll have to request the limited time flavor from your server since it's not on the menu, according to the store's Instagram.
Get ingenious flavors like Sage and Pinenut at Icecycle's two locations in the Reno area. Their extensive flavor list will keep any adventurous ice cream lover busy all summer long.
Almond Butter Pale Ale at Sweet Action in Denver
Who needs peanut butter and jelly when you can have almond butter and beer? Sweet Action Ice Cream is making ice cream fantasies a reality in Denver. We bet the nutty almond butter plays well with the bitter hops in the pale ale.
Hibiscus, Rose and Swedish Fish Fluff at Ice and Vice in New York City
We've come to expect the unexpected from popular, edgy scoop shop Ice and Vice. This very-red flavor gets its eye catching hue from a whole host of red-colored ingredients like hibiscus and rose. While we're not entirely sure what "Swedish Fish Fluff" is, bringing a candy and a marshmallow together sounds awfully dreamy.
If you're a fiend for the sweet milk that remains after a bowl of cereal, then you must head to Milk and Cream Cereal Bar. Here you can customize a milkshake or ice cream swirl with one cereal (like Cinnamon Toast Crunch or Cocoa Puffs). Or, order one of the shop's special flavors, like the Froot Berry Bliss that has strawberries, blueberries and Froot Loops.
Ube ice cream is having somewhat of a moment. Dive into the flavor by checking out this sweet purple yam and cheese flavored treat. Ube and cheese may seem odd to some American palates but the combo is a well-known flavor combo used in ube cheesecakes.
Extra Cheddar Goldfish, Sparky's Homemade in Columbia, Missouri
The snack that smiles back ... in ice cream? Sparky's went there. The ice cream shop has a history of serving up wacky flavors — it made headlines in 2011 for its cicada ice cream, which sold out even before employees put the batch into the shop's display case.
Corn, Dominique Ansel Bakery in Japan
Dominique Ansel, the inventor of the cronut, is no one-trick pony. In one of his Japan shops, he's serving this corn ice cream served in a corn. (It's a corn inception!) While plenty of other scoop shops serve corn ice cream or corn soft serve, the fact that Ansel's creation is served atop a literal corn ear makes his corn cone stand out above all others.