A look inside the quirkiest ice cream shop in the world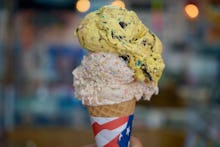 This week, Out of Office is celebrating all things ice cream. Follow along as we explore the sweet history and unexpected influences of America's favorite dessert.
Not many independent ice cream shops are immortalized in a deck of Trivial Pursuit cards, but 20-year-old Max and Mina's made the cut in the game's 25th Anniversary edition. Bruce Becker, the founder and owner of the scoop shop, shared this tidbit while flinging out tiny spoons of scoop samples ranging from neon pink to electric blue to Spongebob-yellow (the cake batter flavor is actually called Spongebob), in a testament to the cultural relevance of his now-iconic ice cream shop.
Decorated with plastic purple and red Adirondack chairs, Max and Mina's almost feels like a boardwalk cool-down spot rather than a quirky ice cream parlor in a small strip mall in a suburban part of Queens, miles away from the closest subway. Dozens of colorful cereal box cutouts, stickers and mementoes cover the white tile walls, adding the playfulness of a child's bedroom to the beachy vibe. In short, Max and Mina's is the perfect spot for a summertime scoop. Or several.
"We make ice cream around the clock," Becker said of the shop's production, which happens mainly in the basement. In addition to serving an ever-changing list of out-there flavors to both locals and visitors from around the world, Max and Mina's also sells wholesale gallons to New York institutions like Bloomingdale's, Dylan's Candy Bar and many, many more restaurants.
The sweet — and scientific — origins
Though the scoop shop officially opened in 1997, the impetus for the creative ice cream laboratory happened decades before. Becker's father, Max, worked as an organic chemist, and he made ice cream as a hobby. When he passed away in the '90s, Becker found his ice cream recipe book and started "working on flavors." From there, he began crafting new recipes and getting feedback on what worked and what didn't.
Today, Becker is always experimenting with new flavors and additives, adding a pie crust to his piña colada flavor to create Piña Colada Cream Pie or incorporating popular snack ingredients like Gushers, Pretzel, Cheez-Its and more to invent never-before-tasted-flavors. Becker credits his adventurous palate to his mother, Mina, who always had him "taste new things."
Both the ingredients and technique (soaking crunchier ingredients is key for some mix-ins) are essential to a successful scoop — and while packaging from many unique ingredients is proudly displayed on the wall, the recipe itself remains a family secret. "You can have the best ingredients, but if your process isn't down right, it's not there," Becker said.
From caramel corn to horseradish
Becker said his initial urge to use unlikely mix-ins in his ice cream often surprised people. "We went to the Fancy Food Show and it was a shock! It was like horseradish, what?" People continued asking for flavors like pretzel, horseradish, Cheez Doodle and more of the unusual mix-ins and Becker kept creating new, intriguing flavors to drive sales. "It's constant," Becker said of the innovative processes. "You always have to experiment. It's a way to take yourself on a different road and experience and taste something. Life is a journey, you have to try new flavors, new things."
Two decades later, seeing cereal or other untraditional flavors in ice cream is "the norm" — Becker doesn't understand the whole Momofuku cereal milk "thing" (there's no crunchy cereal in the soft serve, to his chagrin) — and Asian flavors like taro, sesame and ube have pervaded American ice cream culture, but no one else scoops out lox-flavored orbs of frozen dessert.
"Weird is no longer weird anymore," Becker said of the constantly strange desserts popping up. "But no one's doing this." The spread of flavor options is impressive, with candies, cereals, snack foods, alcoholic beverages, desserts and more flavoring the dozens of ice creams available in a single day. Rather than going for shock value (though herring has been a past flavor), Becker aims to make what's resonating with customers. Lox sells, as does caramel corn, Pez and other only-at-Max-and-Mina's flavors.
Unsuspecting retirees try Pop Rocks scoops and a neighborhood mom requests whatever cheesecake flavor is being scooped today. "We do more Cap'n Crunch than vanilla," Becker said of the lure of the more unusual flavors. "And we have a very, very good vanilla."
Embracing the masses
Roughly half of Max and Mina's daily customers are newcomers, who have seen a scoop of Matzo or Pink Champagne ice cream on Instagram or Yelp and are eager to try (and post) the flavor for themselves.
The past few years have brought a new sweep of customers (many of whom, Becker said, return) to the store. "People have lived a mile away and never even knew we existed," Becker said of the social media's power to attract new business. Still, "I just wish people would hashtag us more."
While Max and Mina's did the media circuit and morning shows over a decade ago, this new stream of peer-to-peer attention is bringing in more new customers than Becker could have predicted after 20 years in the same spot.
They'll have "the usual"
"One of the best feelings is seeing people's reactions, lighting up people," Becker said. "They come to get away ... There's nothing like this anywhere."
To neighbors, Max and Mina's is less a treat and more a lifestyle. Becker mentioned making his coffee ice cream stronger to encourage locals to swap out summer iced coffees for a scoop of caffeinated ice cream and, because many of his ice creams have cereal mixed in, they're an ideal portable breakfast.
During my visit, a man walked in around noon, ordered "the usual," — which for him meant chocolate, vanilla, strawberry and caramel in a cup — and walked out back to work nearby, spoon in hand, with the ease of a Midtown Manhattan employee picking up their usual salad bar order. "See? That's his lunch," Becker emphasized. "It has calcium!"