Navigating Trump's Twitter: Here's how we know which stories get under Trump's skin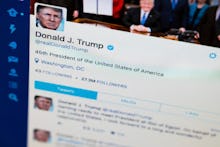 Navigating Trump's Twitter is a new series from Mic that explores how the president elects to use his favorite medium to impact policy, express his viewpoints and attack the media. Instead of covering Trump's tweets as they come, we look for patterns in behavior that offer a window into the president's actual world view and how he chooses to express it through unmediated 140-character missives.
On Monday, President Donald Trump went on one of his bimonthly Twitter rampages, attacking everyone from outsed FBI Director James Comey, to congressional Republicans to Chelsea Clinton.
Notably absent from his tweets was Sunday's bombshell revelation by the New York Times that Trump's eldest son Donald Trump Jr. had an undisclosed meeting with a Russian lawyer to obtain damaging information about Hillary Clinton.
Given the president's proven lack of impulse control, Trump's off-topic tweet storms may not seem like a deliberate attempt to change the subject. But whether he's doing it consciously or not Trump is trying to change the narrative — and it's a method that has worked for him time and time again.
Since taking office Trump has frequently responded to new revelations in the Trump-Russia affair by spewing a series of off-topic tweets to try and change the narrative.
Here are a few notable instances of the tactic at play:
March 2 to March 4
March 2 saw two major developments in the Trump-Russia story. The first was Attorney General Jeff Sessions' decision to recuse himself from the investigation after revelations that he had previously undisclosed meetings with the Russian ambassador. The second was a story in the New York Times revealing that former national security adviser Mike Flynn and Trump's son-in-law Jared Kushner also had an undisclosed meeting with the Russian ambassador that they failed to disclose.
Trump's first wave of tweets on March 3 tried to muddy the question of who deserves to be on the hot seat by calling for an investigation into alleged Russian ties of Democratic leaders in the House and Senate.
Those attacks went virtually nowhere over the course of the day, and by the next morning a reportedly furious Trump tweeted his most famous misdirection yet, accusing predecessor President Barack Obama of wiretapping his phone during the election.
The accusation set off a series of events, culminating in cable news segments, high profile press conferences and House and Senate proceedings.
March 27
On March 27, the New York Times broke another story about Kushner, this time about an undisclosed meeting he had with a Russian banker who has ties to Russian President Vladimir Putin. Trump chose that same day to, once again, accuse Democrats of having some sort of secret relationship with Russia.
He then veered off in another direction, attacking members of his own party over the recent failed health care vote.
The latter tweet successfully refocused the press's attention on the split within the GOP over the House health care bill — a split that ultimately meant nothing as the House eventually earned enough support to pass the bill and send it to the Senate.
May 11 to March 12
On May 11, the Times broke the news that Trump reportedly asked Comey for his loyalty at their one-on-one dinner in January. The next morning Trump attacked the press, threatening to end all future press briefings.
Trump followed up with an atypically topical tweet about his meeting with Comey, but still managed to steer the conversation away from the allegations by suggesting that he may or may not have recorded his conversations with Comey.
That tweet successfully refocused the narrative yet again and resulted in multiple rounds of questions from White House reporters about the potential existence of Comey tapes. Months later the White House finally came clean and admitted there never were any tapes.
June 29 to June 30
On June 29, the Wall Street Journal broke the news that a longtime GOP operative was attempting to obtain hacked Clinton emails from Russian sources, while telling people he was working with Michael Flynn. The Journal reached out to the Trump campaign for the story, possibly alerting them to its existence as early as that morning.
That's when Trump choose to tweet his attack on Morning Joe co-host Mika Brzezinski.
By the morning of June 30, several hours after the Journal story became public, Trump was furiously tweeting about a series of hot button issues that had nothing to do with Russia.
First, he threw a wrench into Republican attempts to repeal and replace the Affordable Care Act by claiming that he might support repealing the law immediately and replacing it at a later date.
Then, 11 minutes later, he proclaimed he would be sending federal officials into Chicago, rehashing a previous tweet controversy.
By 5:55 a.m. he was back to feuding with with the hosts of Brzezinski and Morning Joe co-host Joe Scarborough, accusing Scarborough of having beseeched him to kill a National Inquirer story about his and Brzezinski's ongoing relationship.
Trump does not react the same way to every small development in the Russia story. Specifically, it appears to be instances where secret meetings between the Russians and members of his family or Mike Flynn that set him off the most.
But the erratic nature of Trump's Twitter behavior doesn't mean the rants are without purpose. The president appears to simply throw everything he can at the wall until something sticks — and more often than not, something does.