Dozens of imams are marching against terrorism in Europe, but of course you didn't hear about it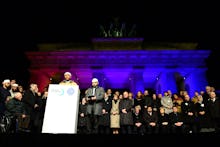 In Paris on Saturday, a coalition of imams started a bus tour to sites where Muslim extremists committed violence in Europe in an effort to condemn terrorism. The tour is called "The March of Muslims against Terrorism."
The bus tour, which will include more than 60 imams, began on the Champs-Élysées to honor French police officer Xavier Jugelé, the Independent reported. Jugelé was killed on duty on the Parisian avenue when a Muslim extremist fatally shot him with an assault rifle. Jugelé, who is gay, was known to be a strong advocate for LGBT rights. On Saturday, imams from all over the world including France, the United Kingdom, Tunisia and Belgium paid their respects to Jugelé.
The bus tour will include stops in Berlin, Brussels and Nice — all of which are European cities that witnessed a terrorist attack in the last two years. Organizers of the anti-terrorism demonstration said they hope to meet with Chancellor Angela Merkel in Berlin.
In March 2016, there were three suicide bombings in Brussels: one at Maelbeek Metro Station and two others at the Brussels International Airport. The bombings killed at least 34 people. On July 14, 2016, an Islamic State-linked attacker drove through a crowd during Bastille Day celebrations in Nice, France, and killed 86 people. ISIS claimed responsibility for the attack. On Dec. 19, 2016, a truck also plowed through pedestrians at a Christmas market in Berlin near the Kaiser Wilhelm Memorial Church. The truck attack killed 12 people.
The imams will return to Paris on July 14, which is the first anniversary of the Bastille Day attack.
The bus tour is led by French Imam Hassen Chalghoumi and French Jewish writer Marek Halter. Chalghoumi said the goal of the bus tour is to assert that their Islamic beliefs and values are completely at odds with religious extremists.
"We are here to say that our religion and the values of Islam are opposed to those assassins," Chalghoumi told France Inter radio on Saturday.
In the United States, mainstream news publications that have a history of pressuring Muslims to condemn terrorism barely covered the anti-terrorism demonstration. After the 2015 Paris attacks, for example, two CNN anchors — John Vause and Isha Sesay —  cornered French Muslim activist Yasser Louati. The anchors asked why French Muslims didn't prevent the attacks and blamed them for not speaking out enough.
"I've yet to hear the condemnation from the Muslim community on this, but we'll wait and see," Vause told Louati.
In fact, Muslims condemn terrorism so often that a 19-year-old University of Colorado student compiled a 712-page list with sources of all the times they spoke out against religious extremism since the Sept. 11 attacks.
They denounced the Bastille Day attacks and the Orlando shooting massacre. In August 2016, about 30,000 Muslims marched against ISIS in the U.K. In March 2016, after the Brussels bombings, Muslims not only condemned the attack — they donated their blood as well. In December 2015, 70,000 Muslim clerics and imams condemned religious extremism in a petition.