"Wild Thoughts" Waluigi Remix: Rihanna and DJ Khaled mix with Nintendo — and Waluigi gets wild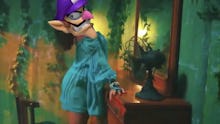 It's not often you see DJ Khaled, Rihanna and Nintendo's Waluigi in the same sentence. But in the aftermath of RiRi's incredible "Wild Thoughts" music video, here we are.
James Nielssen (aka @cool_as_heck on Twitter) combined Rihanna's summer hit with the sounds of Nintendo villain Waluigi. Do yourself a favor and watch the hilarious resulting video right now:
In a direct message on Twitter, Nielssen told Mic he received a request for the mashup from Jan Patrick (@jprmn), who suggested combining the DJ Khaled track with Waluigi sounds. Nielssen instantly saw the genius of Patrick's request and the rest is history.
You know I get Waluigi thoughts
The "Wild Thoughts" Waluigi remix is only 18 seconds long. That's more than enough time to get the idea, but short enough to leave us wanting more. Either way, would we dance to it if it came on in the club? You bet your blue shells we would.
We'd still like a longer version of "Waluigi Thoughts," if only because the lines write themselves.
I heard that princess for the taking
DJ Khaled's "Wild Thoughts" generously samples Carlos Santana's "Maria Maria" for its beat. Santana previously spoke positively of the DJ Khaled version.
There is a reason that the infectious groove/theme that Wyclef and I created on 'Maria Maria' still resonates today. It speaks to the heart. DJ Khaled, Rihanna and Bryson take that vibe and bring it to a new dimension with 'Wild Thoughts,' but the groove and essence of the song is still intact.
We're willing to bet he'd say the exact same thing about this Waluigi remix.
More Nintendo news and coverage
Looking for more Nintendo Switch news? Check out how blind gamers are using the Nintendo Switch and why you can't get your Mii to look quite like you. Nintendo's left Joy-Con issue turns out to be a hardware problem — here's how to solve it. Find out how to buy a console amid the recent restock. Learn why the Switch cartridges taste so bad. Check out our comparison photos sizing up the Switch to the Wii U GamePad (part one and part two), or find out how to make use of ethernet without the dock and the best way to get alerts when new stock arrives.