London restaurant Dirty Bones is lending diners "Instagram kits" to better photograph their meals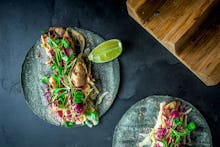 A London-based restaurant chain is offering diners "Instagram kits" to help their #FoodPorn shine.
The kits include a portable LED light, multi-device charger, clip-on wide-angle lens, tripod and a selfie stick, and are lent any patron who requests one.
According to a press release, Dirty Bones' fourth location, where the kits will be offered, was designed specifically with Instagram in mind. The space features floor-to-ceiling bookcases that guests can pose in front of and neon signs listing Instagram-friendly platitudes like "Good vibes only," "Keeping it real" and "It was all a dream."
The cocktails offered are also eminently photographable and the menu is curated based on what's trending on the platform.
Current dishes include fish tacos, cheeseburger dumplings, and a "Mac Daddy" burger. All items are served in a way to maximize visual appeal and shareability.
So far the Instagram kits are only available at one of Dirty Bones' four London locations. However, a representative didn't rule out the possibility of expansion. There's currently no end date set for the promotion.
"We're all about helping people capture that perfect shot," Cokey Sulkin, founder and director of operations at the eatery said in a statement. "The people that typically visit Dirty Bones tend to be very active on social media, and on Instagram in particular."
When asked how this move would affect non-gramming diners, Sulkin said that Dirty Bones intentionally kept the equipment small so as not to intrude on other patrons' dining experience. "Getting quality shots of your food is great, but at the end of the day the most important thing is that our guests are enjoying their food and the overall experience," he said in an emailed statement.
However, trying to eat dinner or enjoy a drink with friends while surrounded by photo shoots doesn't exactly sound appealing. Then again, Instagram has become so intertwined with modern day dining experiences no matter where you go and many Instagrammers aren't concerned with actually eating what's on their plate anyway.
And if you're looking for a more low-key tech-infused dining experience you can always make a trip out to San Francisco where you can eat truffle-infused croquettes off an iPad.