'Star Wars Battlefront 2' Open Beta Release Date: When you can join the galactic battle this fall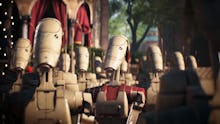 We learned at E3 2017 that Star Wars Battlefront 2 would launch a beta for players who preordered sometime before its Nov. 17 launch. We also heard tell of an exclusive closed alpha on PC recently, but there was no word on when or if the general public would get to try the game prior to its release.
According to the PlayStation Blog, we will.
Star Wars Battlefront 2 open beta starts in October
If you preordered Battlefront 2, you can get into the beta early: on Oct. 4. Everyone else gets in on Oct. 6. The beta ends on Oct. 9 for everyone. That means if you're unsure about the game and want to try before you buy, you'll have three days to do so.
The beta will feature a 40-player match on Naboo, with players in the shoes of either droids or clones (you know, from the prequel movies everybody loves so much). You'll be able to choose from four different classes with distinct roles and abilities, as well as pilot appropriate vehicles in the game's signature chaotic, large-scale battles.
If that's not your thing, you can also take part in "objective-based, multi-stage battle" piloting ships from the original trilogy. That part is light on details, but hey, multiplayer dogfights are fun.
More gaming news and updates
Check out the latest from Mic, like this essay about the sinister, subtle evils lurking in rural America that Far Cry 5 shouldn't ignore. Also, be sure to read our review of Tekken 7, an article about D.Va's influence on one Overwatch player's ideas about femininity and an analysis of gaming's racist habit of darkening villains' skin tones.