Small town, big pride: Erie, Pennsylvania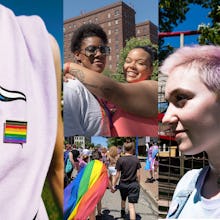 ERIE, Pa. — As this year's Erie, Pennsylvania, Pride festivities were winding down on the western side of the city's Perry Square Park and organizers began packing up their row of neat pink tents, 20-year-old Chloe Reuther was peacefully going toe-to-toe with a small group of religious demonstrators. The demonstrators, unhappy with the celebration's presence in the city's main square, had been trolling along the perimeter of the event all afternoon, first with a megaphone, then with a sign emblazoned with the ominous message "repentance or else." On the whole, it was a civil exchange, with Chloe calmly, eloquently and effectively countering each argument the demonstrators made with calls for understanding, open-mindedness and acceptance.
"I'm open to what you're saying, I'm listening to you. But what I'm hearing is that I'm wrong for being happy with who I am, and that we're all wrong for being happy." —Chloe Reuther
Once the tents were gone and the last of the rainbow swag had been cleared from the square, the protesters quietly left as well. But other Pride attendees remained, including Chloe and her friends, a group of a half-dozen beaming, smiley young women. Though most of them identify as straight, they had rallied around their friend and her message, each reaffirming their support not just for Chloe, but for the LGBTQ population of Erie as a whole. One friend, Madelyn Stamant, wondered aloud why so many people insist on being so openly intolerant. "Isn't it just exhausting to hate?" Madelyn postulated.
The interaction of Chloe and her friends is, in many ways, a good stand-in for the way LGBTQ communities in Erie operate. They are a tight, close-knit, open and visible group in a city where standing out can be a challenge. It isn't necessarily a hostile environment — the protesters were, after all, heavily outnumbered — but it's one in which occasions for coming together and finding common ground can be few and far between.
"Stand proud. You'll love yourself and everyone else a lot more." —McKeela Smith
Erie's smokestacks and machine shops, two of the most visible remnants of its industrial past, have sat silent and shuttered for a generation. Like other cities in the region — Pittsburgh to the south, Buffalo to the northeast and Cleveland to the west — Erie's manufacturing base began to decline precipitously in the 1980s, leaving in its wake a shrunken economy and acres upon acres of modern ruins. The local fishing industry, which once sent Lake Erie's plentiful carp around the world, also gradually dried up. And so, despite the throngs of seasonal tourists who come to enjoy the beaches and spectacular sunsets of Presque Isle State park, Erie County has endured decades of reduced public services, a partly vacant downtown and a much higher unemployment rate than Pennsylvania on the whole. It's the kind of place political commentators have picked over endlessly since the 2016 election: a once reliably Democratic county dominated by white, working-class voters that turned out heavily for Donald Trump. (Hillary Clinton won all 69 voting districts in the City of Erie, but Erie County ultimately went to Trump.)
There is evidence that Erie's political turn has been driven by economics and optimistic promises of job growth, rather than a particularly conservative social nature. This year, Northwest Pennsylvania Pride — the nonprofit that organizes Erie's pride celebrations — marked 25 years of continuous celebrations, and the city is one of more than two dozen localities in Pennsylvania that has an anti-discrimination ordinance on the books that specifically protects LGBTQ individuals. Still, without the institutional support from a flourishing local business economy that LGBTQ communities elsewhere count on, attaining positive cultural change has been a slow, uphill march that places even further importance on singular events like Pride weekend.
To that end, progress has mostly been driven by grassroots organizing and some particularly dedicated activists. Tyler James Titus is a clinical therapist and one of the town's most visible resources for LGBTQ youth. He works within the public school system and in private practice and has become an integral figure in helping to make the region's schools safer and more understanding spaces for queer children. Since he came out as trans in 2014, his practice has been thoroughly grounded in advocacy for the many LGBTQ kids without familial or strong institutional support.
"The first time I met a trans kid that had nobody beside them, it honestly made everything worth it," Titus said, demonstrating a refreshing vulnerability and openness that has surely contributed to his success as a therapist. "I don't care who fights against me. I have kids behind me that need me to keep pushing forward." As — in Titus' words — a "very out" trans man, he even won a primary election for Erie school board this spring as a write-in, a victory he feels reaffirms the all-around goodness of the city's people and its willingness to embrace its LGBTQ communities. The proper election will be held this fall.
"I realized after years of struggle that I needed to be me, to stop fighting against myself, to stop denying my truth. And ever since I did that, freedom just sort of came." —Tyler James Titus
Tyler's triumph is certainly cause for optimism, and the further embrace of LGBTQ communities — not just a tolerance — was on full display at Erie Pride, especially among younger people. Easily one-third of those in attendance were under 20 years old, and most of them brought along parents, siblings and straight friends. A number of out trans kids enjoyed the festivities, too, many of whom were excited to spend the day being themselves without pressure or fear. Nearly all observed were among friends who identified differently from one another. One group from a high school in town — Charlotte, Kiara and Hezekiah — were much more interested in talking about their future aspirations than their respective identities. A trans boy named Nico, visiting for Pride from a very small town in the countryside, was happy just to be in an environment where there was little fanfare about his identity.
Another prominent activist in town, Miranda Galbreath, is an LGBTQ ally who runs therapeutic groups at a state prison in Erie County and trains service dogs for a local chapter of Canine Partners for Life. The spectrum of her advocacy is connected via an expansive and open view of equality that emphasizes the shared human experience. "Labels strike me as so limiting," she says. "But I also get that sharing those labels can be part of how we increase awareness and acceptance of the LGBT community. It can be a way to help other people be brave with who they are."
"My family doesn't really understand who I am. Here I feel normal. I am normal." —Nico McEntire
Bravery during Pride may feel easier than it does at other times throughout the year, thanks to a strength in numbers present that makes demonstrators with opposing viewpoints, like those with whom Chloe debated, seem small; this year's festivities in particular attracted a record high number of attendees. And while local activists note that there is still much more work to be done, a bigger sign of success toward equality may be found in the seemingly contradictory observation that, all in all, Erie Pride generated little fanfare within the city. There was a peaceful and joyful march through the city streets, a relaxing day at a local amusement park, a pageant and the coronation of a new Miss Gay Erie in a strip mall bar; it all felt pretty normal. That just might be exactly what real progress looks like in Erie — and in small towns across America, from Spencer, Indiana, to Boise, Idaho, and beyond.
Erie, Pennsylvania — Population: 99,000
Erie sits roughly midway between Buffalo and Cleveland on the southern shores of Lake Erie. It was once an industrial powerhouse, home to factories and machine shops from large corporations that were once synonymous with America's industrial might; its fishing industry was one of the most plentiful producers of carp in the country. Since the 1980s, its industrial economy has shrunk radically, but has been partially replaced by service sector jobs in health care and tourism. Its population has dipped from a high of over 135,000 in the 1960s to less than 99,000 today. Still, tens of thousands of tourists flock annually to Presque Isle State Park for its sandy beaches and gorgeous sunsets.
The city's contracted economy has led to high unemployment, and Erie County's mostly white population turned out heavily for Donald Trump in 2016 after voting twice in favor of Barack Obama — a critical factor in Pennsylvania's overall Republican victory during the presidential election.
July 13, 2017, 12:14 p.m.: This article has been updated.
Correction: July 12, 2017