NES Classic Stock: Don't fall for the fakes, here's how to tell the difference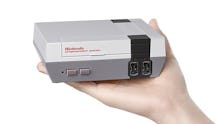 When we learned that the NES Classic stock would no longer be replenished by Nintendo, the news was hard to take. While Nintendo recently brought us news of a SNES Classic console coming later this year, it just won't be the same as buying the company's first home video game machine.
Some have taken to eBay to get their nostalgia fix, though it appears fake NES Classic consoles have infiltrated the internet. Here's how you can tell what's real or not, and how to avoid getting scammed.
NES Classic stock: Fake consoles are here to dupe you. Here's what gives them away.
This trick to telling which NES Classic consoles are real or fake comes from NeoGAF, where one user broke down the differences. On the controller, players note that the squares containing the gamepad's A and B buttons are raised, unlike on the real version. The "Nintendo" logo on the console is also slightly more crooked, and the console's color is more beige. The operating system of the fake NES Classic also looks different from the real one: five games are visible on the home screen at a time instead of the official one's four at a time with two partially cut off.
Actually, that last one sounds like a plus.
NES Classic stock: Is buying a fake better than getting nothing at all?
Some NeoGAF users initial impressions to the news of fake NES Classic units verged closer to apathy than outrage.
"If the emulation is actually decent I wouldn't mind having one," wrote RadioJoNES64 in the thread.
Atheerios chimed in as well, noting, "Well if Nintendo doesn't want to give us one ..."
The upcoming SNES Classic console could experience similar counterfeits when Nintendo closes off sales at the end of 2017.
We can't recommend buying a fake console, if only because of the legal issues involved. Additionally, the quality of the device will also likely take a hit if you buy a fake knockoff instead of the real thing. You're better off downloading individual games through the virtual console on Wii U, 3DS and maybe, one day, the Nintendo Switch.
Check out more Nintendo news and coverage
Looking for more Nintendo Switch news? Check out how blind gamers are using the Nintendo Switch and why you can't get your Mii to look quite like you. Nintendo's left Joy-Con issue turns out to be a hardware problem — here's how to solve it. Find out how to buy a console amidst the recent restock. Learn why the Switch cartridges taste so bad. Check out our comparison photos sizing up the Switch to the Wii U GamePad (part one and part two), or find out how to make use of ethernet without the dock and the best way to get alerts when new stock arrives.