'WWE 2K18' Nintendo Switch Release Date: Series' return is a major boost to console's library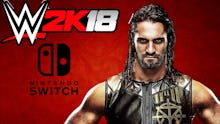 WWE 2K18 is set to release Oct. 17 for PS4 and Xbox One, and it's coming to the Nintendo Switch this fall. That's spectacular news for WWE and sports gaming fans who own (or plan to buy) the portable handheld system.
Cover athlete Seth Rollins made the announcement in a video released on Monday, July 10.
WWE 2K18 Nintendo Switch release date marks a growing trend
Sports games are slowly, but surely making their way to the Switch — and the WWE 2K18 announcement is one of the biggest additions for sports fans.
This will be the first time a WWE game has been available for a Nintendo system in years. The last one was WWE' 13 on the Wii.
Up to now, the only legitimate sports game available on the Switch was NBA Playgrounds — and even that is an arcade title. (Mario Kart 8 Deluxe is a great game, but it's not really a traditional sports game).
We're starting to see a regular rotation of sports titles that fans can only hope will become annual releases. Once WWE 2K18 is grouped with the upcoming NBA 2K18 and FIFA 18, Nintendo fans will have some solid options for sports gaming on the go.
WWE 2K18 Nintendo Switch release date: What features to expect
According to the official 2K website, the Switch version of WWE 2K18 will feature MyCareer, a customization suite and the most "complete roster" ever.
WWE 2K18 on the Switch will also deliver the new MyCareer online mode Road to Glory, as well as new gameplay enhancements like improved weight detection and positional feeding.
We haven't seen screenshots or video of any of the versions of the game, but from a feature set standpoint, WWE 2K18 on the Switch would appear to be comparable to its PS4 and Xbox One counterparts.
Obviously, the Switch version also offers the ability to play on the go, giving it an added advantage over other console versions.
There's several reasons to be excited about this announcement, but above all, it's great to see variety coming to the Nintendo Switch library.
More sports gaming news and updates
Love sports games? Check out more content from Mic, including tips for leveling up your MLB The Show RTTS player, the new story mode in Madden 18, a wish for the WWE 2K18 release and a detailed sports video game release calendar.