IOS 11 Beta Features: Apple removed the slickest iPhone feature you've probably never heard of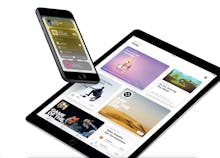 Anxious iPhone users, celebrate: IOS 11 beta 3 is out! Apple's newest mobile software for iPhone and iPad is due this fall, but developers can install the new digital goodness right now. IOS 11 will ship with a smarter Night Mode and new Messages effects you can annoy your friends with.
But something is missing from the latest beta: fast app switching with 3-D Touch.
IOS 11 beta features: Fast app switching, explained
Skilled iOS users know they can tap their iPhone's home button twice to reveal the app switcher, letting them change their current app or swipe up on other apps ostensibly to save battery life (which doesn't work, by the way). IOS ninjas, however, know the pro move: push into the left edge of the screen with a bit of pressure to force open the app-switcher view. On iOS 10, this works on the iPhone 6s, 6s Plus, 7 and 7 Plus.
Here's how the trick looks in action.
Later iPhones are able to do this via 3-D Touch, which allows the device's screen to detect pressure. Push into the screen on an icon and it reacts differently than when you simply tap it.
In iOS 10, users are able to push into the left side to reveal the switcher. Pushing in and quickly swiping right will instantly take you to the last used app — no home button necessary. So satisfying! Alas, it's not long for this world.
IOS 11 beta features: RIP, fast app switching
But in iOS 11, Apple appears to have removed the app-switcher shortcut.
The first iOS 11 developer beta didn't include the 3-D Touch skill, nor did the second. Now that the third iteration is here and Apple has yet again left out the switcher-summoning trick, we have a feeling this feature is departing iOS for good.
I feel pretty sad to see it go. I used to use this thing 15 times a day. I might even downgrade to iOS 10. 3-D Touch was always easier than using the home button, which is soon to be obsolete anyway.
If you're still on iOS 10 (or even iOS 9) and have never used 3-D Touch to invoke the app switcher, put that thumb to use and give it a whirl. Then pour one out for a lovely secret feature soon to be retired.