British MP Anne Marie Morris suspended after making racist remark during Brexit speech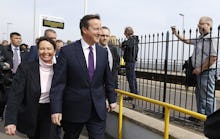 A U.K. member of parliament was suspended on Monday after using the N-word in a speech about Brexit.
Anne Marie Morris, a Conservative party member who represents Newton Abbot in Devon, England, used the term at a panel event at the East India Club in London while discussing the impact of Brexit on the U.K.'s financial services industry.
According to a recording published by HuffPost, after suggesting Brexit would affect 7% of the U.K.'s financial services, Morris continued, "Now I'm sure there will be many people who'll challenge that, but my response and my request is look at the detail, it isn't all doom and gloom."
"Now we get to the real n*gger in the woodpile, which is in two years what happens if there is no deal."
Morris, who campaigned in favor of Brexit in 2016, has been a member of parliament since 2010, the BBC noted. The politician previously came under scrutiny in June, when her partner and electoral agent Roger Kendrick said "that the crisis in education was due entirely to non-British born immigrants and their high birth rates."
Although HuffPost reported that Morris's fellow panelists did not react to her use of the phrase at the time, her comments quickly sparked outrage among other British MPs.
"This disgusting comment belongs in the era of the Jim Crow laws and has no place in our parliament," Tim Farron, leader of the U.K.'s Liberal Democrat party, said, as quoted by the Guardian.
Following Morris's comments, U.K. Prime Minister Theresa May revealed that she had ordered Morris to be suspended from the Conservative party.
"I was shocked to hear of these remarks, which are completely unacceptable," May said, according to the Guardian. "I immediately asked the chief whip to suspend the party whip. Language like this has absolutely no place in politics or in today's society."
Morris issued an apology for her remarks prior to her suspension, after the remarks were first published.
"The comment was totally unintentional. I apologize unreservedly for any offense caused," Morris said, as quoted by HuffPost.
According to the BBC, the phrase "n*gger in a woodpile" originated during the mid-1800s in the American Deep South, where it was used in reference to slaves who concealed themselves as they attempted to escape to the North. The phrase was then used in the 20th century as a metaphor for a hidden problem or fact.
This isn't the first time that the phrase has been a source of controversy in the U.K. government, according to HuffPost — though Morris's use of the phrase appears to be the first time a politician has been suspended over its use. An MP decried a European politician's use of the phrase as "deplorable" in 1978, and a motion was proposed in Parliament to condemn Conservative politician John Townend for using the phrase in a television appearance in 1993.
Other British MPs have also been criticized for using the phrase in 1984, 2003 and most recently 2008, when politician Lord Dixon-Smith apologized for "[leaving] his brains behind" after using the phrase.