There's an alarming connection between climate change and the California wildfires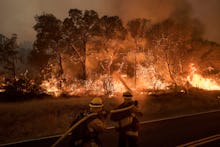 Multiple devastating wildfires in California and other parts of the West have forced nearly 8,000 people to leave their homes — and according to experts, human-made climate change is at least partially to blame.
Firefighters in California are continuing to fight the blazes, the largest of which, the Alamo fire in Santa Barbara County, had burned 28,926 acres and was only 20% contained as of Tuesday, local outlet KSBY reported.
Thirty-five miles south of that, the Whittier fire forced 3,500 to flee and briefly trapped 80 campers at a summer camp, the Los Angeles Times reported. They had to be rescued by U.S. Forest Service firefighters on Saturday.
Climate change and wildfires
According to Climate Signals, a database maintained by the climate action communications organization Climate Nexus, climate change is to blame for many of the factors that put California at risk for more — and larger — wildfires.
The climate in California has already begun changing, becoming warmer and drier. That, in turn, leads to an earlier snowmelt, more drought and conditions in which pine beetle infestations spread. All this means more dead trees — millions of them, in fact — which make perfect kindling for wildfires.
Those elements have compounded to turn the western and southwestern U.S. into a "tinderbox," according to Rachel Cleetus, the lead economist and climate policy manager with the climate and energy program at the Union of Concerned Scientists.
"The reality is that, in the southwest and the western U.S., hotter, drier conditions — which climate change is a big contributing factor towards — are making our fire seasons more fierce and longer," Cleetus said in a phone call Monday.
Wildfires have inciting incidents like lightning strikes or campfires, but, as Cleetus pointed out, "the reality is that climate change has created the conditions" that are making southern California much more vulnerable to the fires.
Several studies have directly linked climate change to an increased risk of wildfires, according to the Climate Signals project. Half of California's 20 largest wildfires on record have happened in the past ten years, according to Climate Signals. Those fires have real, harmful, effects, Cleetus said. In addition to the toll of fighting the fires themselves, the smoke impacts the air quality for miles around.
In an email to Mic on Monday, John Abatzoglou, climate scholar and an associate professor of geography at the University of Idaho, said climate change has "helped enable" at least some of the increase in wildfires in the western U.S.
Climate change has contributed to both an earlier start to the fire season and drier vegetation, he said.
"Across much of the western U.S. during the fire season we've seen substantial increases in fire danger over the past four decades, with about half of this increase attributed to human-caused climate change," Abatzoglou said.
All of this paints an alarming picture of a near-future where thousands of firefighters battling multiple wildfires across the state of California is just the new normal.
"Fire has always been a part of the natural landscape and ecosystems, but what we're seeing is a new normal," Cleetus said. "Yes, fire is a part of the natural ecosystem, but this new fire regime is truly a result of climate change contributing to hotter, drier conditions."