Why 'Moonlight' director Barry Jenkins' next movie is so important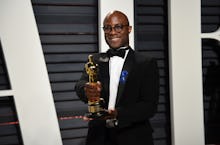 Barry Jenkins may have directed and co-written Moonlight, the movie that won best picture at the 2017 Academy Awards, but that's not the only reason his next film endeavor is significant. The story he's chosen to tell is hyper-relevant to America's current state of racial disparity.
Jenkins' next film will be an adaptation of James Baldwin's 1974 novel If Beale Street Could Talk. Often referred to as a love story, the novel is about Tish, a young pregnant woman from Harlem who's doing all she can to free her fiancé, Fonny, from prison. The reason her fiancé's in jail speaks to the all-too-common racial profiling incidents that still happen in America to this day; Fonny's a black man who's being held accountable for a crime he didn't commit.
In the novel, Tish experiences street harassment and is rescued by Fonny. Despite Fonny not using any violence to help Tish, a cop comes onto the scene and tries to arrest Fonny for assault. A store owner comes to Fonny's defense and the cop is forced to let him go, but he later returns with a trumped up charge against Fonny: the rape of Puerto Rican woman. Fonny is brought to the station and identified as the rapist by the woman because he's the only black man in a lineup of white men, and she believes her attacker was black.
This sequence of events may sound somewhat extreme, but considering the rampant racial profiling that still goes on in the justice system today, it's really not. Beyond the unjustified arrest, the cop's history of racism strikes a painfully familiar chord — he'd previously killed an unarmed black boy.
If Beale Street Could Talk may be about more than Fonny's false imprisonment, but those circumstances alone make the story powerful and relevant to issues that continue to plague this country.
Like Baldwin's novel, Moonlight is also a love story that speaks to so much more about the struggles of being black in America. Through exquisitely detailed storytelling, Jenkins helped his audience see the world from that particular perspective, but he didn't let the characters' circumstances dictate the overall tone of the film. There's still hope and joy threaded throughout Moonlight, despite the heartbreak and the loss. Needless to say, this project is in more than capable hands.
Jenkins actually started working on the adaptation of If Beale Street Could Talk at the same time that he was writing Moonlight in 2013. He's also been in communication with the Baldwin estate to make sure they're happy with the resulting screenplay and film. They seem understandably confident in Jenkins' ability to do the novel justice.
"Barry is a sublimely conscious and gifted filmmaker, whose medicine for melancholy impressed us so greatly that we had to work with him," Baldwin's sister, Gloria Karefa-Smart, told Variety.
Though when Beale Street will premiere in theaters has yet to be announced, the film is set to go into production in October. For now, though, we're just happy to hear that Jenkins has another rich full-length feature on the horizon.
Mic has ongoing movies coverage. Follow our main movies hub here.