This fashion student is claiming Viktor & Rolf may have been inspired by his own doll head design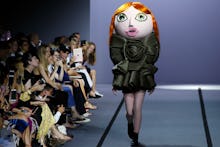 Viktor & Rolf sending their models down the runway in oversized doll heads at Paris Couture Fashion Week might have felt original to you, but for Parsons student Terrence Zhou all it felt was familiar.
In late May, Zhou applied for an internship with Viktor & Rolf and attached his portfolio, which contained images from a project with illustrator Lizzi Shin that showed models with bizarre, doll-like heads wearing voluminous clothing. Zhou ended up getting turned down for that internship because he didn't have the correct passport, which is nothing out of the ordinary.
But when Viktor & Rolf showed in Paris just a few weeks later, 21-year-old Zhou was shocked. Their designs, with the massive, exaggerated doll heads and that voluminous, tent-liked clothing, looked eerily familiar to the designs in his portfolio.
"It made me feel so nervous, when I was seeing that collection," Zhou said in an interview. "The thing is: It looks like mine, but also they changed a lot of it, so I'm really not so sure. I cannot accuse them of directly copying, but it looks like my idea, because of the silhouette and the proportion. It was so similar, so I decided to speak out."
In a Facebook post outlining his claim, which shows pictures from his portfolio and emails with Viktor & Rolf, he wrote that he's not simply accusing the designers of copying him but is rather trying to stand up for young people like him, who may risk having their work exploited when sending out their portfolios.
"On July 5, when I saw their new collection, it had left me completely shocked," Zhou wrote on Facebook. "Not accusing them of copying, however I do have a feeling that as young designers our right cannot be fully protected in the fashion industry. Sending portfolios is required for us to get internships. When does that become a dangerous process for us to do? And how big of the possibility would be for them to have a similar design, which they have never done before, after my work is on their file."
"It's not only about me," he wrote on. "This is about all the young designers. This is about new talents, and this is about new creativity. Design students can be hopes for the future, but they can most likely be victims exploited by big companies. It is unacceptable for an established creative company not to credit the original ideas."
In response to Zhou's claims, Viktor & Rolf, who have been inspired by dolls before, have already issued a statement of their own.
"For all seasons, all the Viktor & Rolf development and designs are entirely done by the Viktor & Rolf [designers] and the Maison," a Viktor & Rolf spokesperson told Women's Wear Daily.
To that, Zhou doesn't really want to argue. "They have their own freedom of speech. When people see it, I think they will have their own judgment," Zhou said. "What's the goal of attending fashion school? I just want to create something original that no one has created before."
"If we don't speak up, the industry will never learn their lesson," Zhou concluded. "I don't want want this to happen to anyone else. We can't let this happen to any more students."