'Wild West Online' Gameplay Trailer: Cowboy MMO action revealed — still no release date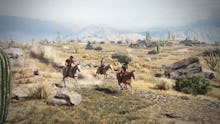 Red Dead Redemption 2 is still hidden behind Rockstar's game development curtain, but if you absolutely need a wild west video game, there's another option on the horizon. Wild West Online is an upcoming MMO that's, well, set in an online wild west world.
Sound good? If so, here's some new Wild West Online gameplay footage.
Wild West Online gameplay trailer showcases a dangerous co-op cowboy world
In Wild West Online, you create a character who exists in a persistent, shared vision of the wild west. With the press of a button, every interactive object in your field of view is highlighted, so you'll never be lost. In this demo, the player reads a newspaper posting with a bounty in it — you know what to do from here. (The narrator also notes that newspapers will be updated regularly in the game).
You can go to a clothing store and outfit your gunslinger however you want, which doesn't change your stats. Once you've found an outfit that works for you, you can go out and hunt the bounty with a friend. Safe houses around the world are sanctuaries and fast travel points. Saloons serve as social hubs.
The game is played in either first or third person. The shooting looks more precise in first-person mode, but it might be more fun to explore the world in third-person. Once the player and his buddy get to the bandit camp, they have to decide how to approach it. After scouting the camp, they decide to use their guns to shoot the bad guys. It's pretty straightforward from there.
Wild West Online will get its first playable alpha sometime this summer, according to the game's website. As of right now, it's set to be a PC exclusive.
More gaming news and updates
Check out the latest from Mic, like this essay about the sinister, subtle evils lurking in rural America that Far Cry 5 shouldn't ignore. Also, be sure to read our review of Tekken 7, an article about D.Va's influence on one Overwatch player's ideas about femininity and an analysis of gaming's racist habit of darkening villains' skin tones.