What to eat in one of America's most diverse neighborhoods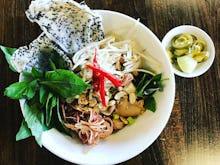 The 2010 U.S. census unleashed an urban legend: Following the count, reports claimed that Seattle, in all of its homogeneity, was home to the country's most diverse ZIP code. This news has since been thoroughly debunked: 98118, which covers roughly 6 square miles near the southeastern end of the city, is more likely the 64th-most diverse district in the country.
Though the area isn't America's most diverse, it remains a multicultural anomaly in Seattle. The 2010 census showed that 66% of Seattle's residents identified as non-Hispanic white, the fifth-highest rate among the country's 50 biggest cities. And while that number is likely to be lower after the next census, Seattle's high homogeneity ranking will likely stand.
According to the last census, roughly 24% of 98118's residents identified as black, nearly 30% identified as white and just over 30% identified as Asian. The neighborhood owes its diversity to its history as a haven for immigrants starting in the early 1900s, as people settled from Ireland, Italy, Japan, China, Samoa, the Philippines, Vietnam and East Africa. African-Americans also moved to the area in large numbers throughout the 1960s and '70s.
Drive along the South Seattle arteries of Rainier Avenue South and Martin Luther King Jr. Way South and you'll see businesses like Tiém Vang Hoang Kim Jewelry, the Refugee Women's Alliance, Iglesia La Luz Del Mundo and Abubakar Mosque. Street-side banners in the Othello neighborhood greet visitors in 40 languages.
98118's neighborhoods of Columbia City, Othello, Hillman City and Rainier Valley are also home to a wide range of restaurants, from grab-and-go Senegalese dishes to homespun Mexican cuisine. While 98118 might not be America's most diverse ZIP code, it's a contender for America's most diverse ZIP code for dining. Here are six family-run businesses worth seeking out.
Best for pretending you're on an episode of Parts Unknown
Wicked Chopstix has built a citywide following after only six months in business. Owner Michael Nguyen works alongside his sister, Ida Nguyen, who manages the restaurant. The duo hired chef Chi Yen from their family's hometown of Hai Phong in northern Vietnam.
Many patrons order the fantastic bun cha, a dish of charred pork bathed in a sweet fish-sauce broth and complemented with various ingredients for a build-your-own soup or lettuce wraps: bean sprouts, vermicelli, basil, mint, pork patties and egg rolls. You'll find it on the menu as "Obama Noodle," named after the dish former President Barack Obama and Anthony Bourdain shared on an episode of Parts Unknown.
The Nguyens' father is a distant cousin of the owner of the restaurant Obama and Bourdain patronized on the show, reported Eater. Other dishes to order include the oxtail pho, lobster pho and cha cã la vong, flash-fried fish served in a hot cast-iron skillet alongside dill noodles, turmeric and fish sauce.
Best for a commuter meal that'll improve your day
Taco Street's convenient location across the street from the Othello light rail station has made it a hit for morning commuters. They're treated to friendly service and a vast menu of breakfast tacos, chilaquiles and huevos rancheros — plus regular tacos, burritos, tamales and tortas, all washed down with from-scratch horchata and agua frescas.
Tacos are served only with protein; a toppings bar stocked with salsas, sauces, cilantro and pickled red onions allows for customization. Protein choices run the full gamut, but don't miss the deeply flavorful barbacoa and perfectly crisped carnitas. Order the chili Colorado, pozole, or chilaquiles, which include an enchilada sauce made from red and black chilies grown on owners Martin and Elonka Perez's land in Chihuahua, Mexico.
Best for brunch with your whole family (yes, they serve cocktails)
At Island Soul Restaurant, owner Theo Martin takes inspiration from the flavors of the Caribbean and the American South for dishes that include oxtail stew, jerk chicken wings, fried catfish and goat curry. The full bar specializes in rum-based cocktails such as rum punch or dark and stormy. It's not uncommon to see members of the Martin family working in the restaurant they've run for more than 15 years.
Families pile in for the hearty weekend brunches, where dishes ranges from chicken-fried steak and gravy to pork belly hash to chicken and waffles. There's even a dedicated children's menu, a rarity in Seattle.
Best for takeout comfort food
Mamadou Diakhate is often the chef and server at his tiny La Teranga restaurant, where he shows off the flavors of his native Senegal. The restaurant's name means "hospitality" — a concept Diakhate has so thoroughly dedicated himself to, you'll feel as though you're dining in his home.
If you can't find a spot to sit, Diakhate also has a takeout option. Either way, you'll eat dishes you won't easily find elsewhere in Seattle, including thiebou djeun, Senegal's national dish of fish served alongside cassava, eggplant and cabbage in a spicy tomato-based stew, and lamb mafe, a peanut-sauce-based dish with carrots, yams and cassava.
Best for dining with a group that has mixed dietary needs
Cheerfully decorated in lots of bright colors and African art, Kezira Cafe brings the bright flavors of Eritrea and Ethiopia to the Columbia City neighborhood. Owner Nigist Kidane was born to Eritrean parents and raised in Dire Dawa, Ethiopia, before immigrating to the U.S. She worked as a restaurant server in North Carolina before moving to Seattle and opening Kezira.
Servers at Kezira wear kemis, the traditional ankle-length dresses worn by women in Ethiopia and Eritrea for formal events. The vegetarian-friendly menu can be served with gluten-free injera, the teff-based flatbread staple, with a day's advance notice. Various combination platters set dollops of beef curry, split peas, red lentils, collard greens and potatoes atop injera for dipping and folding. Kezira also performs Ethiopian coffee ceremonies, which involve roasting beans and preparing coffee laced with dried ginger and served in ceramic cups.
Best for recreating a family barbecue feel
Enormous portions are one hallmark of this seemingly instant classic in Columbia City. Seattle may not be known as a barbecue city, but Emma's seems singlehandedly poised to challenge that, with flavors influenced by both owner Tess Thomas' Arkansas roots and Memphis' legendary barbecue.
Thomas' granddaughters run the front of house, serving the usual spread of slow-cooked goodness, with standouts like collard greens cooked with chopped brisket bits and a pulled pork sandwich with chunks of succulent meat and crunchy, charred bits. Opt for the spicy sauce, which strikes the perfect balance of vinegar, sugar and a lingering-but-not-unpleasant heat.