Donald Trump Jr. agrees to be interviewed by Senate Intel committee about his Russia meeting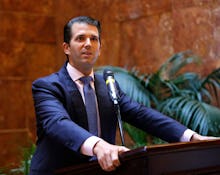 On Monday, first son Donald Trump Jr. agreed to be interviewed by the Senate Intelligence Committee about the New York Times revelation that he'd met with a Russian lawyer who has close ties to the Kremlin.
Over the weekend, the New York Times reported on a meeting that took place in June 2016 between Donald Trump Jr. and Natalia Veselnitskaya, a Russian lawyer who allegedly promised to provide damaging information on Hillary Clinton. Trump's son-in-law, Jared Kushner, and then-campaign chair Paul Manafort were also present at the meeting.
Following the Times' report, Trump Jr. gave several shifting explanations for the meeting.
Sen. Susan Collins (R-Maine), a member of the Senate Intelligence Committee, has said she wants the committee to interview the eldest Trump son about the meeting, and that she suspects special counsel Robert Mueller will also want to interview him.
Trump Jr. replied on Twitter, saying he would be "happy to work with the committee to pass on what I know."
An aide to Sen. Mark Warner (D-Va.) the top Democrat on the Intelligence Committee told Mic that Warner will also call on Trump Jr. to appear before the committee. It's not clear whether or not such an appearance would happen in a closed session or in public.
Will Drabold contributed to this report.