Credit card or bank rip you off? How to fight fees and unfairness — and why that's getting easier.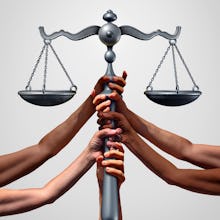 Good news for anyone with a bank account or credit card: On Monday, the Consumer Financial Protection Bureau announced consumers would be getting back their right to join together in class-action lawsuits to sue companies for unfair behavior, like tacking on hidden fees or using misleading advertising. How so? The CFPB issued a final rule regulating so-called "arbitration agreements" in consumer contracts — like those issued by banks and credit card companies — that limit your ability to join class actions, after court rules chipped away at the rights of consumers to join together to sue.
That's important, because — while individuals would have a hard time litigating an unfair $10 fee here or broken promise there — there is power in numbers.
"Group lawsuits, also known as 'class-action' lawsuits, have long been recognized as a means to secure relief under federal and state law," CFPB director Richard Cordray said in prepared remarks. "In recent years, private companies have been able to ... sidestep accountability under the law, and millions of consumers have found the courtroom doors locked through mandatory arbitration clauses. This rule throws open those doors and allows harmed consumers to band together and seek justice."
At least for now, thanks to the new rule, it could get easier to get money back from companies handing out cash settlements to consumers. You'll be more easily able to join a class action just by visiting pages like this one or this one to submit a claim against a company that wronged you — and you'll more easily be able to start a class action by contacting an attorney with a complaint. Financial institutions won't be able to get the court to dismiss your case just because they forced you to sign a contract giving up your rights.
How does this all work, exactly? Read on.
What rights does the CFPB rule give you?
The CFPB's new rule prohibits certain financial institutions from including pre-dispute arbitration clauses in consumer contracts. These pre-dispute clauses bar you from joining class-action lawsuits by requiring all future disagreements to be resolved in arbitration — outside the courts. That's a problem because when you can't join a class action, you're left without legal remedies for minor wrongs, since it's too costly and time-consuming to bring an individual lawsuit.
"Very few people have the time or the money to fight on their own over a small amount of money, which is commonly the stakes in consumer financial matters," Cordray said. "In most situations, hiring a lawyer to handle the consumer's own individual case is not practicable."
Now, thanks to the new rule, you won't be stopped from joining together in cases against financial institutions engaged in abusive practices. "Our new rule will restore the ability of groups of people to file or join group lawsuits," the CFPB explained.
Those companies covered by the rule include businesses issuing consumer credit or car leases; debt settlement firms; credit reporting companies; debt management or settlement businesses; firms facilitating the transmission or exchange of funds; and companies offering accounts under the "Truth in Savings Act." If you want to become a part of a class action against these types of companies, or you want to start a class action against them, now you can.
Why does this new rule matter to you?
This new rule is a big deal. The Dodd-Frank Act — the act under which CFPB passed the new rule — required the Bureau to study the impact of pre-dispute arbitration to determine if a rule restricting these clauses was justified. The research revealed that pre-dispute arbitration clauses acted as a barrier to class actions, while failing to lower prices for consumers.
The CFPB's research found that the problem is widespread: 53% of credit card issuers included pre-dispute arbitration clauses, and banks with these clauses in their contracts held 44% of all FDIC-insured deposits. More than 90% of prepaid card agreements and 86% of contracts in the private student loan market also contain pre-dispute arbitration agreements, as did contracts of mobile phone providers covering more than 99% of the market.
Since arbitration is less effective at providing remedies, you essentially give up your rights if you sign one of these contracts — even if you didn't know it.
Class-actions can be very effective: Over five years, 160 million class-action members obtained $2.7 billion in remedies, per the CFPB. From 2010 to 2012 alone, settlement of six class actions gave 19 million consumers almost $600 million in damages for bank overdraft procedure problems.
By contrast, from 2010 to 2012, 1,847 arbitration disputes were filed across six consumer finance markets, nearly 80% of which were filed by consumers. Close to half involved debt issues. No claims were related to company conduct, and consumers obtained only a bit under $1 million in damages from the rare cases that came before a judge.
These numbers suggest you're way more likely to get an appropriate legal remedy if you join a class action after a company wrongs you, rather than having to arbitrate — and thanks to the CFPB, now you can do that.
There is some potential bad news for consumers on the horizon, however: A bill that was passed in June by the U.S. House of Representatives (though not the Senate) would roll back the power of the CFPB to regulate arbitration clauses. The House bill — called the Financial Choice Act of 2017 — might be passed in a different form through the Senate, something worth watching for.
Wells Fargo's bad behavior shows why this matters so much
On the same day the CFPB announced its new rule, a California judge gave preliminary approval to a settlement in which Wells Fargo agreed to pay $142 million to a group of plaintiffs and indicated its intent to resolve 10 other pending class actions, as Business Insider reported. The Wells Fargo case involved employees who met sales quotas by opening around 2 million accounts behind customers' backs. "Arbitration clauses in existing account contracts blocked their customers from bringing group lawsuits for the unauthorized account openings," Cordray explained.
The Wells Fargo case is a good illustration of problems with arbitration clauses. While Wells Fargo may have settled because the CFPB was involved, "consumers should be able to stand up for themselves and pursue their own legal rights without having to wait on the government," Cordray said.
Plaintiffs' lawyers in pending cases are concerned the bank settled with these particular plaintiffs because the judge's ruling gave them little leverage, according to the Los Angeles Times.
"The potential that this plaintiff is willing to settle for less and that Wells Fargo can benefit from their relative disadvantage could be a concern for a judge," Alexandra Lahav, a law professor at the University of Connecticut who specializes in class actions, told the Times. In other words, the arbitration clauses did just what the bank wanted — made it harder for consumers to get a fair legal remedy.
Thankfully for consumers, the new CFPB rule for now means you shouldn't have to worry about your claims in a class action being dismissed, or that a contract you sign will ask you to waive rights to pursue a legal remedy if you are wronged. (Still, it never hurts to review fine print before signing anything.)
Sign up for the Payoff — your weekly crash course on how to live your best financial life. Additionally, for all your burning money questions, check out Mic's credit, savings, career, investing and health care hubs for more information — that pays off.