'NBA 2K18' Prelude would be a great way to combat 'NBA Live 18' demo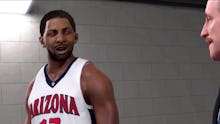 After years of 2K Games dominance, the competition between NBA 2K and NBA Live may be heating up again. Here's why 2K Games needs to release an NBA 2K18 Prelude as soon as possible.
NBA 2K18 Prelude: Why we need it soon
There were a number of positive impressions from the hands-on experience with NBA Live 18 after EA Play in June, and many fans are excited to see this year's game. EA Sports will release a full-featured, free demo for NBA Live 18 in August to get a head start of sorts on the virtual hoop season. NBA 2K18 doesn't release until September 15.
We don't know the exact release date of the Live 18 demo, but it could arrive well over a month before NBA 2K18 releases.
Prior to the release of NBA 2K17, 2K gave fans a free demo of sorts called the Prelude. It allowed fans an opportunity to create their MyPlayer and start their MyCareer journey.
Here's a look at the NBA 2K17 trailer from 2K Sports:
We haven't heard any news on whether the Prelude feature will be returning this year, but with EA Sports set to deliver its own free preview, creating another Prelude for NBA 2K18 might be a good idea.
This could be in the works. 2K didn't announce the Prelude until Aug. 26 last year. And the Prelude didn't actually arrive until Sept. 9. So that would still be after the Live 18 demo, if they kept to a similar timeline this year.
That said, it would still give 2K something to offer fans before the retail version is released.
More sports gaming news and updates
Love sports games? Check out more content from Mic, including tips for leveling up your MLB The Show RTTS player, the new story mode in Madden 18, a wish for the WWE 2K18 release and a detailed sports video game release calendar.