Donald Trump Jr.'s lawyer Alan Futerfas represented New York mafia families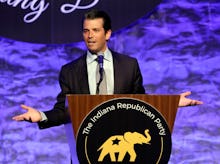 Alan Futerfas, the lawyer secured by Donald Trump Jr. to defend himself after the New York Times reported he met with a Russian to obtain Kremlin dirt on Hillary Clinton, boasts among his prior clients members of organized crime syndicates.
According to Newsweek, Futerfas' bio includes two and a half decades of litigation experience, including "traditional and white-collar cases, trials and appeals, SEC investigations and regulatory matters," as well as a Supreme Court appeals case. But his other clients have included multiple defendants in a mob war case linked to New York's notorious Colombo crime family, as well as Alfonse Russo, the son of an alleged Colombo member convicted with two others in a racially motivated beating in the 1990s.
As Alternet noted, Futerfas represented several other members of organized crime syndicates like the Gambino and Genovese families.
While the links to mafia groups may be unsavory, access to legal representation is at least in theory a core principle of the United States criminal justice system, and Futerfas' work for the clients does not necessarily indicate anything other than that he was willing to provide said representation.
But Futerfas' prior work may also make it hard for Trump Jr. to shake the impression he has more than a little to hide. However, he may have had some trouble selecting top-tier talent. Some of the nation's top legal firms have reportedly declined to represent his father, President Donald Trump, amid multiple investigations into his team's alleged links to Russian intelligence assets.