Report: Donald Trump Jr. knew dirt he was promised on Clinton came from Russian government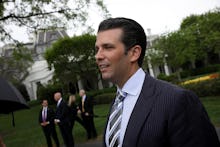 Donald Trump Jr., the eldest son of President Donald Trump, was told in an email that the purported damaging information he was looking to receive on Hillary Clinton was part of the Russian government's quest to help his father's presidential bid, the New York Times reported Monday night.
The email informed Trump Jr. that the damaging information he was promised was from the Russian government, according to the New York Times report.
Trump Jr. has insisted there was nothing untoward about his meeting with Russian lawyer Natalia Veselnitskaya. He pushed back hard on Monday, saying he merely "had to listen" to what Veselnitskaya had to say, and retweeted stories calling the report a "big yawn" and a "nothing burger."
But the fact that Trump Jr. was informed prior to the meeting that the potentially compromising information on Clinton he was promised came from the Russian government could be of "keen interest" to the Justice Department's investigation into possible collusion between the Trump campaign and Russia, according to the Times.
What's more, during a July CNN appearance, Trump Jr. called allegations the Russian government was involved in efforts to throw the election "disgusting" and "so phony."
Trump Jr. has agreed to be interviewed by the Senate Intelligence Committee about the meeting.
And Alan Futerfas, a lawyer Trump Jr. hired after news of his meeting broke, called the new information "much ado about nothing."
"During this busy period, Robert Goldstone contacted Don Jr. in an email and suggested that people had information concerning alleged wrongdoing by Democratic Party front-runner, Hillary Clinton, in her dealings with Russia," Futerfas told the Times. "Don Jr.'s takeaway from this communication was that someone had information potentially helpful to the campaign and it was coming from someone he knew. Don Jr. had no knowledge as to what specific information, if any, would be discussed."
July 10, 2017 at 10:29 p.m. Eastern: This article has been updated.