'Hot Mic' podcast: Donald Trump Jr., Sanders investigation, Trump cancels cybersecurity unit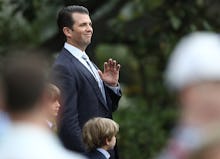 Listen and subscribe to the Hot Mic podcast from your mobile device:
Here are the important stories to know for Tuesday, July 11:
1. Donald Trump Jr. met with a Russian lawyer in 2016 who claimed she had damaging information on Hillary Clinton.
2. An FBI investigation into his wife could become a big hurdle for Bernie Sanders if he plans on running for president in 2020.
3. President Donald Trump changed his mind on teaming up with Russia to create a cybersecurity unit.
Direct from Mic's newsroom, Hot Mic keeps listeners informed with a daily run-down of top stories, breaking news and analysis from our news team.