Jinx joins Hot Topic's geeky sartorial crew for gamer lifestyle clothing — exclusive first look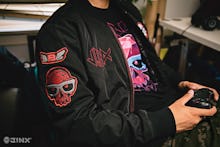 Jinx has teamed up with Hot Topic — every burnout-raver kid's dream destination in the late '90s — to bring its self-named brand clothing to the mainstream.
Jinx's self-named collection — not to be confused with its licensed goods — debuted last November. But until now, Jinx brand clothing has never been sold at retail. Mic was given an exclusive look at what we can expect from the new gamer lifestyle collection and the partnership with Hot Topic.
Jinx Hot Topic: When you can find the collection in stores and what you can wear
Jinx could easily have joined rank and file at GameStop (and ThinkGeek) to be drowned in overpriced gamer merch. But the company chose its long-time partner, also beloved by another popular geek fashion line — Her Universe.
"We have such a long-standing history," said Candace Brenner, VP of marketing at Jinx during a phone call. "They've carried our licensed stuff for ages, and when we asked gamers where they think Jinx's clothes would belong, they usually said Hot Topic."
The collection, which launches at all 500 Hot Topic stores (as well as the Hot Topic website) on Aug. 17, will include a bomber jacket (as pictured in the image up top), jogger pants, a zip-up hoodie, two T-shirts (one design is pictured above) and two nonexclusive products (a cap and raglan long-sleeve shirt). Depending on what you're looking for, the sartorial goodies will run anywhere from $20 to $89.
Jinx Hot Topic: If you want women's sizes, you'll have to go online
The Jinx Hot Topic collection will initially only be available in unisex fit. This gave me pause, because those unisex sizes aren't great for those of us who are femme-facing. When I asked Brenner about Jinx's plans to continue to include women's sizing in their clothing, she was quick to add that select pieces will be available on Hot Topic's website.
And as for the ladies junior sizes that old-school Jinx brand clothing offered? Gone.
"We haven't done this right," Brenner said with a laugh. "There are women on our design team trying to make the fits better."
Thank goodness. Down with junior sizes.
Depending on the success of the partnership with Hot Topic, we may see stores carrying the women's cuts in the not-so-distant future.
Jinx Hot Topic: Want to get your hands on the collection earlier than everyone else?
If you're heading to San Diego later in July, you'll be able to see Jinx's gamer lifestyle clothing up close. The gamer fashion company will be debuting its line during San Diego Comic-Con. You can get these sweet duds before the rest of us at the Horton Plaza Hot Topic store (562 Horton Plaza, San Diego, CA 92101) on Thursday, July 20. 
The store will have the entire collection available for purchase. You'd better get these before they're gone. We all know how much convention-goers love their collectibles during Comic-Con.
Jinx Hot Topic: This is the first collection of many
I asked Brenner how Jinx will handle future collections with Hot Topic, since most fashion lines, including fast fashion, move in seasonal capsules. She confirmed that since the brand dropped last November, its adhered to a quarterly schedule with new collections. They'd ideally like to continue with that same schedule going forward.
But Jinx doesn't want its fashion to be presented in the same boring lookbooks we're used to seeing.
"We're a brand by gamers for gamers, so we envision this as gamifying fashion," Brenner said. "Let's take take people on a journey. The lookbook will tell a story in a way you can interact with. We want it to be something that gamers deserve."
As a long-time Jinx fan myself, I'm excited for what this collection could mean for mainstream gamer fashion. The quality of Jinx's clothes is also pretty unprecedented. I have T-shirts from other outlets that will last me a year at best. Jinx's tees are still in good shape after 13 years of sporadic wear.
The collection debuts on Aug. 17 at all 500 Hot Topic stores and online.
More gaming news and updates
Check out the latest from Mic, like this essay about the sinister, subtle evils lurking in rural America that Far Cry 5 shouldn't ignore. Also, be sure to read our review of Tekken 7, an article about D.Va's influence on one Overwatch player's ideas about femininity and an analysis of gaming's racist habit of darkening villains' skin tones.