What's up with the dancing hot dog? Snapchat just created its most iconic lens since the dog filter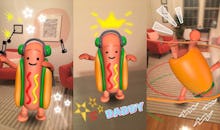 If you've been on the internet at all recently, you've probably encountered this dancing hot dog.
The character has taken the online universe by storm on Twitter, Instagram, YouTube and Reddit. The hot dog usually filmed dancing in strange and unpredictable places such as on a cat's face or on top of a girl getting her nose pierced and naturally, twirling on a fidget spinner.
For several months Snapchat users have been able to transform their environment using augmented reality butterflies, stars, soap bubbles and rainbows.
But it wasn't until around June 23 — when the company rolled out its breakdancing hot dog lens — that the life-altering power of augmented reality was realized by the masses.
The lens has become such a cult favorite that it's already sparked a Reddit thread investigating the music he's dancing to, a Twitter account dedicated to sharing the best hot dog memes, as well as a line of merchandise.
The fact that Snapchat regularly cycles through lenses has also given tons of fans anxiety. When the lens was removed for a number of users on July 6, people were heartbroken.
But where did this little guy come from? What did we do to deserve such a blessed character? We reached out to Snapchat for more background information and will update if we hear back.
In the meantime, as the competition between Snapchat and Instagram intensifies, one thing the hot dog lens has shown is Snapchat's undeniable ability to penetrate pop culture.
Instagram may have directly ripped off Snapchat's dog face filter, but Snapchat made the face iconic.
As Facebook and Instagram move more deeply into augmented reality, whether the companies can create similarly viral features remains to be seen. According to a study by Insider, it has taken Instagram an average of two years and five months to copy a Snapchat feature.
Snapchat remains one of the most popular apps among teens, but it has faced media criticism among pundits who question its ability to successfully monetize. On Monday, Snap's share price hit an all-time low, falling beneath its IPO price of $17.
How to get your own dancing Hot Dog
Snapchat isn't going anywhere yet, and if you want to hop on the dancing hot dog meme train while it's still chugging, here's how to access the lens.
Open up Snapchat and make sure your camera is facing out, away from your face. Then, press a finger down on the screen until an array of lens options appears at the bottom of the screen.
Scroll through the lenses until you see the hot dog one and select it.
Once selected, you can move the hot dog around the screen with your finger and pinch and zoom to make him appear bigger or smaller. Once you're happy with the way it looks, hold down the record button and snap away.